Earlier this year, we started offering ClearCorrect aligners in Canada and Australia.
In those countries, we took the opportunity to test some features that doctors have requested for a long time. Now we're getting ready to share those improvements with our U.S. doctors.
We're rolling out a host of changes over the next few months, including…
Free, no-committment case submission
Today, you pay in full upfront when you submit a case. Starting soon, you'll be able to submit your prescription and records for free and receive an animated color treatment setup with details of every step within a few days.
It's that easy. You don't even have to select a case type (unless you want to). There's no cancellation fee, and you don't pay anything unless and until you approve the treatment setup.

Bigger phases
Our phases have always been limited to four steps. Now that's changing.
All of the aligners for Limited 6 and Limited 12 cases will ship up front, while aligners for Unlimited cases will be shipped in phases of up to 12 steps each.
The new default wear schedule will be two weeks per aligner, but you'll be able to request a3-week, 2-week, or even 1-week wear schedule, and dispense as many aligners as you see fit at each appointment.

Faster Phase 1 delivery
Right now, we start work on a Starter Kit as soon as we get your records, and ship Phase 1 a few weeks later.
We've heard your feedback—when these changes go into effect, we'll start making Phase 1 as soon as you approve the treatment setup. Instead of sending a separate shipment of starter aligners, the first set of aligners in Phase 1 will be staged with reduced movement to gently acclimate your patient to treatment. All of the goodies from the Starter Kit will be included with Phase 1 as well.
Simpler revisions
Currently, there is no set fee for requesting a revision, but you may have to pay for additional four-step phases for $240 each. The total cost varies depending on your case type, how many steps you've already received, and how many more steps you need. Complicating things further, you can't be sure how many steps you'll need or how much it will cost at the time you request your revision.
We're making this easier. For active Limited 6 and Limited 12 cases, any revision will incur a flat fee of $120. As always, revisions and replacements for active Unlimited cases will be free.
Soon, you'll even receive a treatment setup representing the exact changes planned for every revision.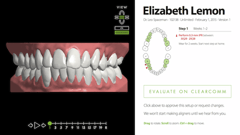 And more…
Those are just a few of the improvements we're making over the next few months. Other changes include:
$25 discounts for cases submitted with intraoral scans
Volume discounts starting at 5 cases (of any type) per quarter
Dedicated technicians assigned to frequent users
More affordable retainers and replacements
Sequential step numbering
Support for alternate dental notation
More detailed tooth charts
Bundled shipments
A revamped support center
We plan to transition the first U.S. providers to the new terms & conditions within the next few weeks. We'll gradually tranistion more doctors until these changes are rolled out to everyone. Most of these changes won't affect your existing cases—those will still be shipped in four-step phases on their current wear schedule, and revisions, replacements, and retainers for those cases will be handled under the existing terms & conditions.
Case evaluations and eval + setups will be discontinued, as those services are now included with every case at no additional charge. Lab fees for Limited 6 and Limited 12 cases will remain unchanged, while Unlimited lab fees will increase by $100. Some restrictions may apply—full details will be available in the updated terms & conditions once these changes roll out to you.
If you have any questions, give us a call at (888) 331-3323.