(Latest update: March 2023 Doctor Portal release)
For information regarding creating an order in the Doctor Portal, refer to the following:
---


Overview
Register as a provider
The first step to creating an order with ClearCorrect is to register as a provider. You can register on Straumann's eShop or, in regions where eShop is not available in the Doctor Portal directly. To learn more on registering as a ClearCorrect provider see the following article:
Collect the Patient Informed Consent
Before you begin creating an order, have your patient read and sign a Patient Informed Consent. It's important for your patients to understand the risks and benefits of clear aligner therapy. You can download an example form in the footer of the Doctor Portal (ensure the form adheres to all local laws in your area - the form provided should only be used as an example). Keep the signed document for your records.
Creating an order
When you're ready to create an order, sign into the Doctor Portal. Click "ADD ORDER" in the header or the button on the "Manage Orders" page.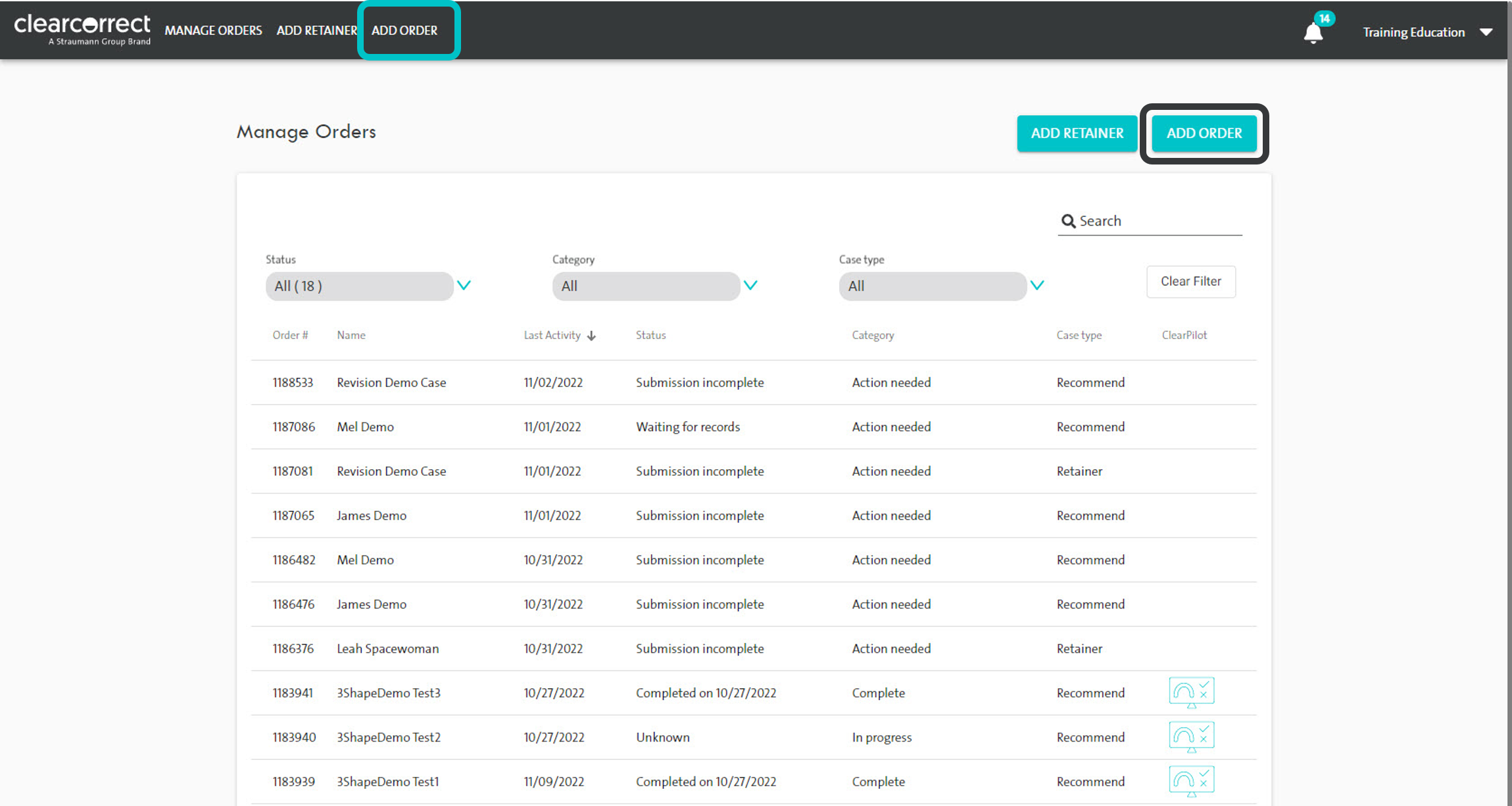 We'll walk you through the rest of the process, though we're pretty sure you'll have no trouble once you get started!
---


Step 1: General information
For the General Information section, perform the following steps:
1. Select the practice where you're treating the patient and where you want the appliances delivered.
2. Enter the patient's information:
First and last name
Date of birth
Gender
Duration of treatment
3. Select whether you want to have the technician recommend the treatment duration or if you want to limit it to a specific number of steps.
If you leave this on Recommend, we'll show you how many steps we need to try to reach your prescribed goals on the treatment setup.
If you choose Limit, you can restrict the duration of the treatment. This is an upper limit—we won't slow down or speed up the movements to hit your limit. If it takes fewer steps than your limit to reach your prescribed goals, we'll use fewer. If it takes more, you might not reach all of your prescribed goals.
Wear Schedule
4. Select the patient's wear schedule.
The wear schedule determines when phases will be shipped.
The default wear schedule is two weeks per aligner. You can change the default setting for the wear schedule in the "My Account" section under "PREFERENCES". If you prefer a longer or shorter wear time for a specific order, you can change it here.
Wear time is a decision that you'll need to make with your patient depending on their specific circumstances.
Wear schedules can also vary if you and your patient use remote monitoring solutions or with complex cases.
Select whether you're treating one or both arches.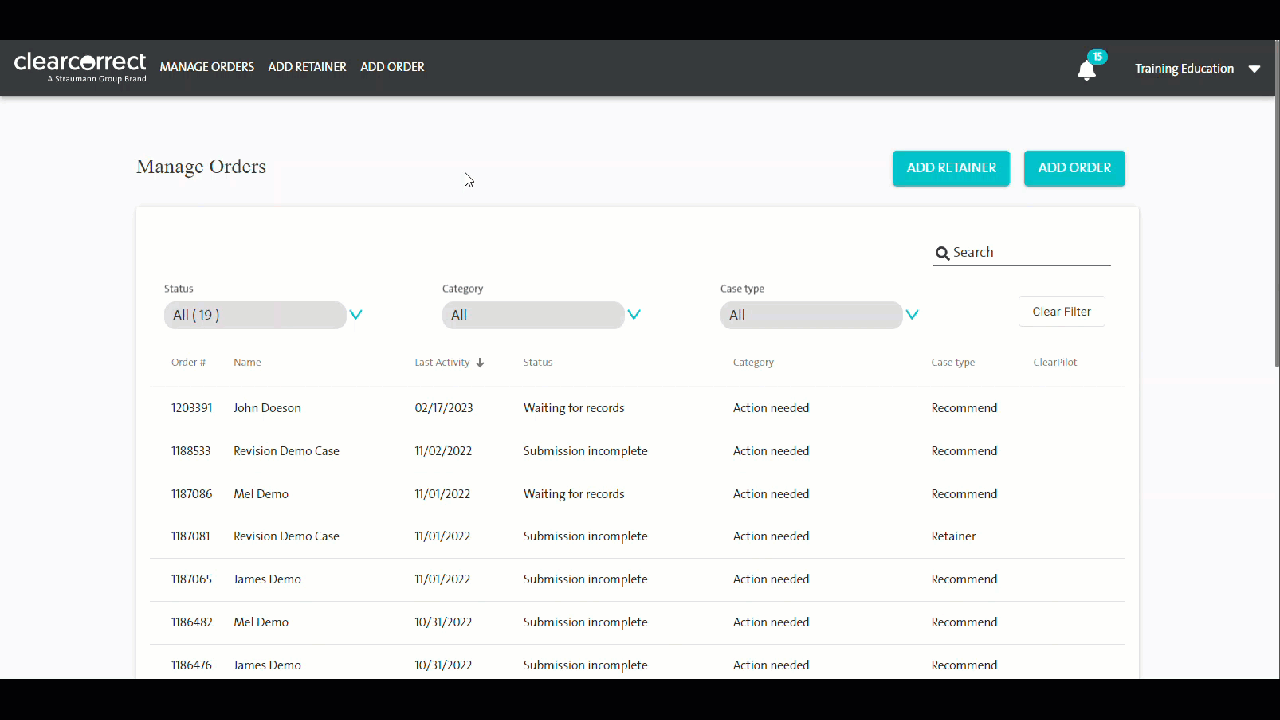 ---


Step 2: Records Uploader
There are three tabs to upload and organize images:
3D-Models
1. Click on the dropdown menu to select scan.
2. Select Add Files to upload images from your files for both upper arch and lower arch.
4. If submitting physical impressions, you will be provided a shipping label so you can send them in.
Intraoral Scans
If you're submitting intraoral scans, articulated scans are needed of both arches, even if you're only treating one arch, so we can properly articulate the digital models for the setup.
Select your scanner, or select "Other STL" if your scanner is not listed and either drag and drop the files directly into the box or you can click within the box to upload.
If you select from "Directly uploaded scans", we'll keep an eye out for files uploaded from the selected scanner that match your patient's information. This works best if you submit your case in the Doctor Portal before uploading scans through your scanner's interface.
We only require

the upper and lower arch scans because the positional data from the occlusal scan is embedded in the upper and lower files themselves. We know that some scanners generate three files, but since all the pertinent positional data is included in just the two, we don't need the third.
PVS Impressions
We only accept any silicone-based impression material, including PVS, VPS, and polyether material. Alginate won't work, and neither will stone models. We need impressions for both arches—even if you're only treating one arch. Bite registrations are optional. Use disposable impression trays—metal and mesh trays can't be scanned. All physical records will not be returned; they are disposed of after processing.
Photos
1. Bulk Upload files by dropping files or by clicking in the rectangular area.
2. Photos can then be sorted by dragging and dropping to the correct profile.
3. We request the following 8 photo angles with your submission:
Full face (not smiling)
Full face (smiling)
Profile (not smiling)
Occluded buccal view of anterior
Occluded buccal view of right lateral
Occluded buccal view of left lateral
Occlusal view of upper
Occlusal view of lower
4. You may select a primary photo by clicking on the lower left corner of the desired photo, "Set as primary".
X-Rays (Optional)
1. Bulk Upload files by dropping files or by clicking in the rectangular area.
2. X-rays can then be sorted by dragging and dropping into the correct profile.
NOTE: X-rays are optional, but if you have them, we recommend that you upload them for more accurate treatment.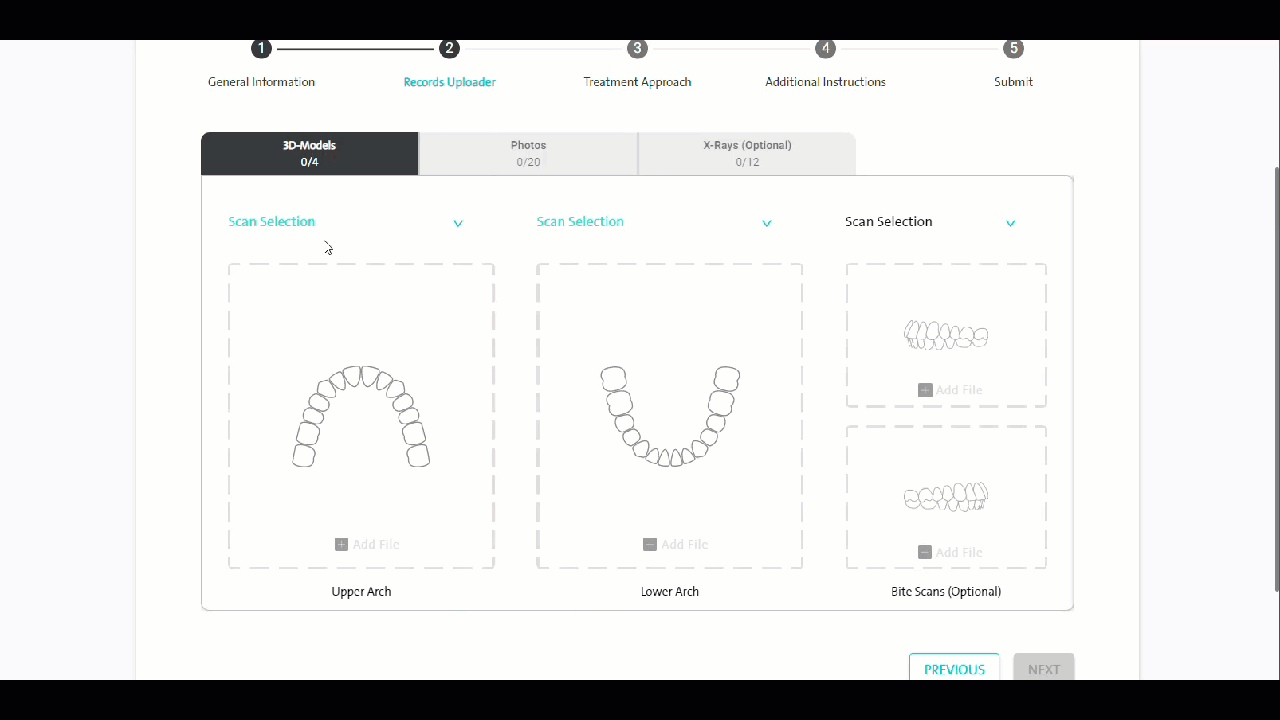 ---


Step 3: Treatment Approach
Completing this section will help you think through the optimal treatment protocols, and it will inform the technician how to prepare your treatment setup.
1. Select dentition type:
Mixed Dentition (Note: This indication is not cleared in all regions; check the IFU for your country at ifu.clearcorrect.com to confirm the indication for your region.)

The stage where both primary and permanent teeth are present. These cases are only suitable for a Full Arch Correction treatment approach.

Permanent

The stage where only permanent teeth are present. These cases may be suitable for either an aesthetic or Full Arch Correction treatment approach.
2. Select treatment approach:
The treatment approach defines your overarching vision for the patient's treatment. An "Aesthetic" approach will focus on simple alignment in the anterior aesthetic zone with no molar movements. A "Full Arch Correction" approach will address all underlying skeletal and orthodontic conditions.

Workflow for Mixed Dentition and Permanant Dentition with Full Arch Correction


Select Bite Classification

Pop-up will appear with Base Treatment Protocols and optional Protocols for each

class. Select treatment details for your patient.

For more information on bite classifications see the article:

Optional Selections include:

Dental Conditions

For more information on dental conditions see the article:

Midline Corrections
Chief Complaint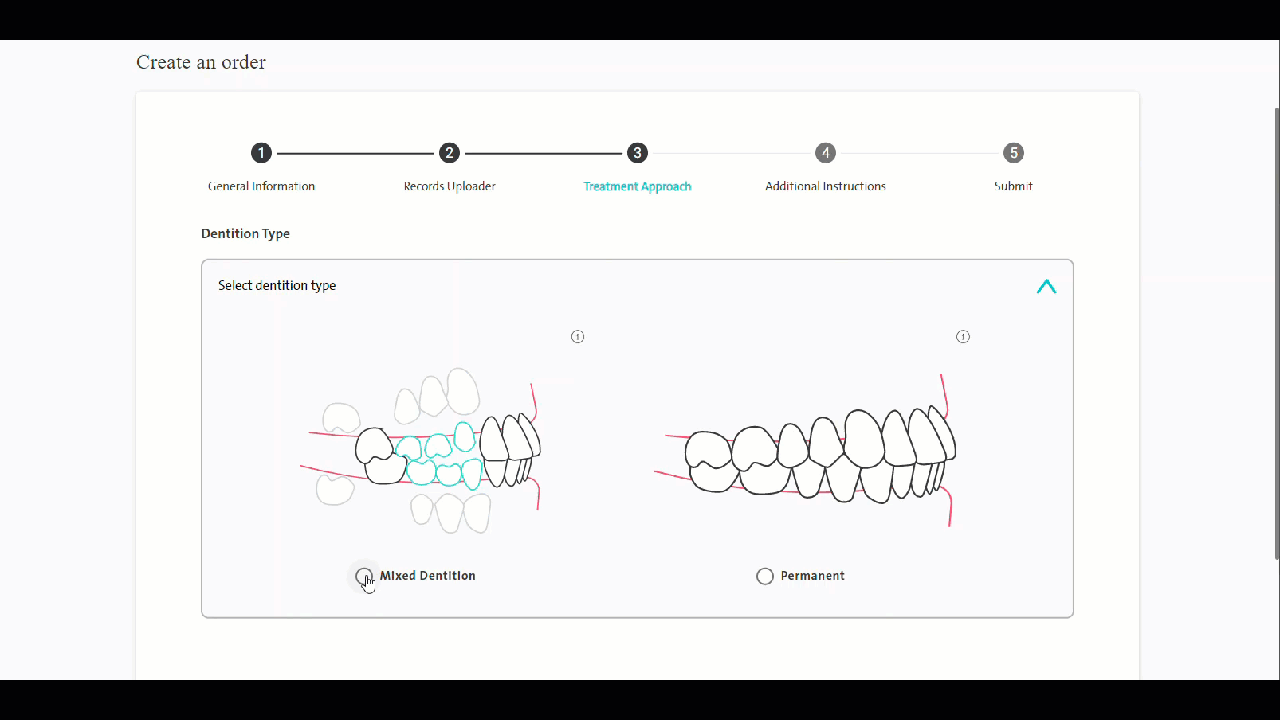 Workflow for Permanent Dentition with Aesthetic

Optional Selections include:

Aesthetic Treatment
Chief Complaint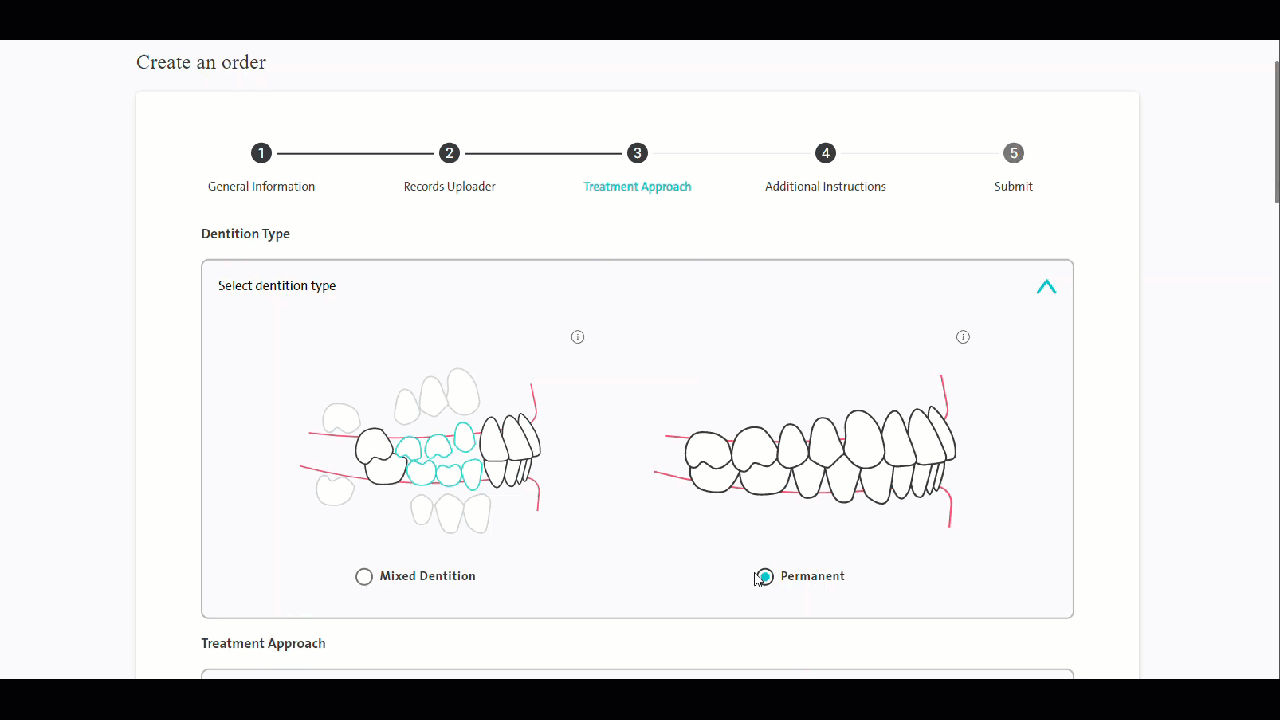 ---


Step 4: Additional Instructions
Choose the dental notation system you prefer to use.
Provide any additional instructions for the case, including:

Any teeth that should not be moved (such as bridges, dental implants or ankylosed teeth)
Any teeth to be extracted before treatment
Any teeth to avoid placing engagers
If you want to end treatment with open space between some teeth, let us know here
Provide us with any detailed explanations or instructions in the "Additional Information" box. The more detailed the better.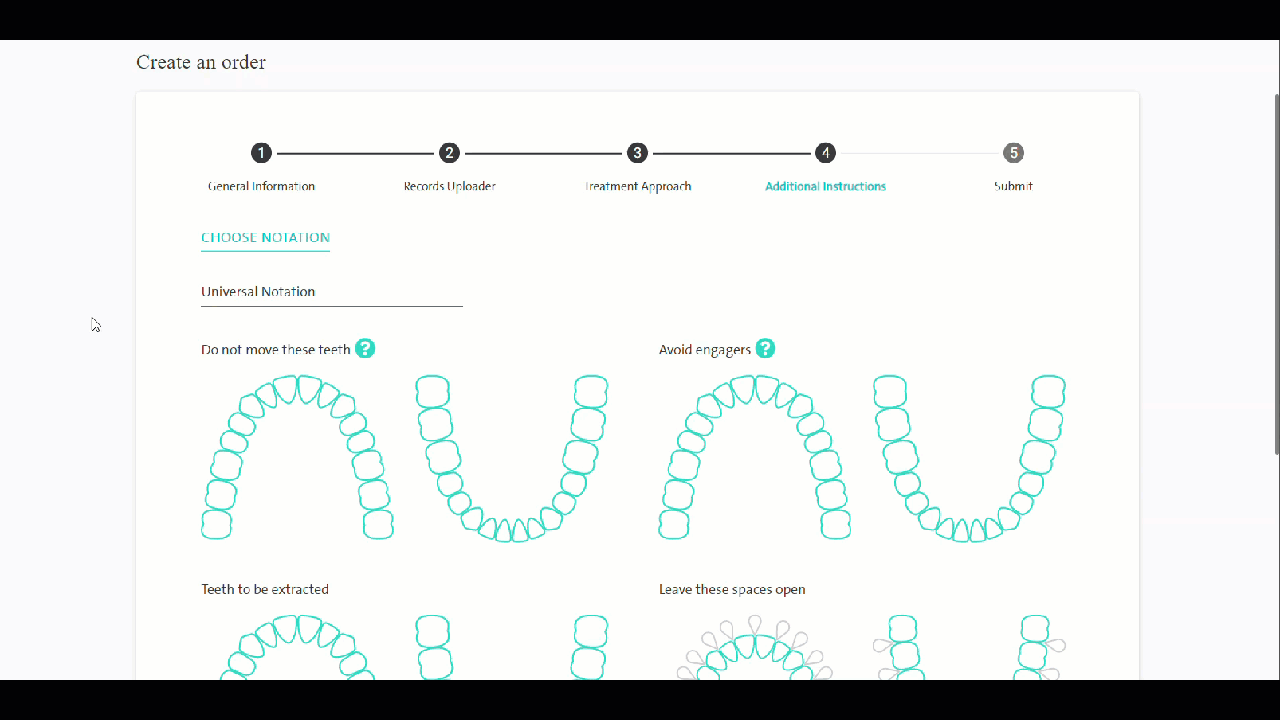 ---


Step 5: Submit
First consider if you wish to add TPS services to this case. To learn more about TPS orders, please see the following article:
Otherwise, continue completing your order using the following steps.
1. Confirm that you have obtained a signed Patient Informed Consent for this patient.
2. Confirm that you have read and agree to ClearCorrect's current Terms & Conditions. The terms are updated periodically, so it's worth clicking the link to make sure you're familiar with the latest version.
3. Confirm that you have read and accept the Straumann Group's Privacy Policy.
You don't have to pay to submit the case, and you're under no obligation—you'll pay the lab fee when you approve the treatment setup.
Then click "SUBMIT" and we'll start creating your treatment setup.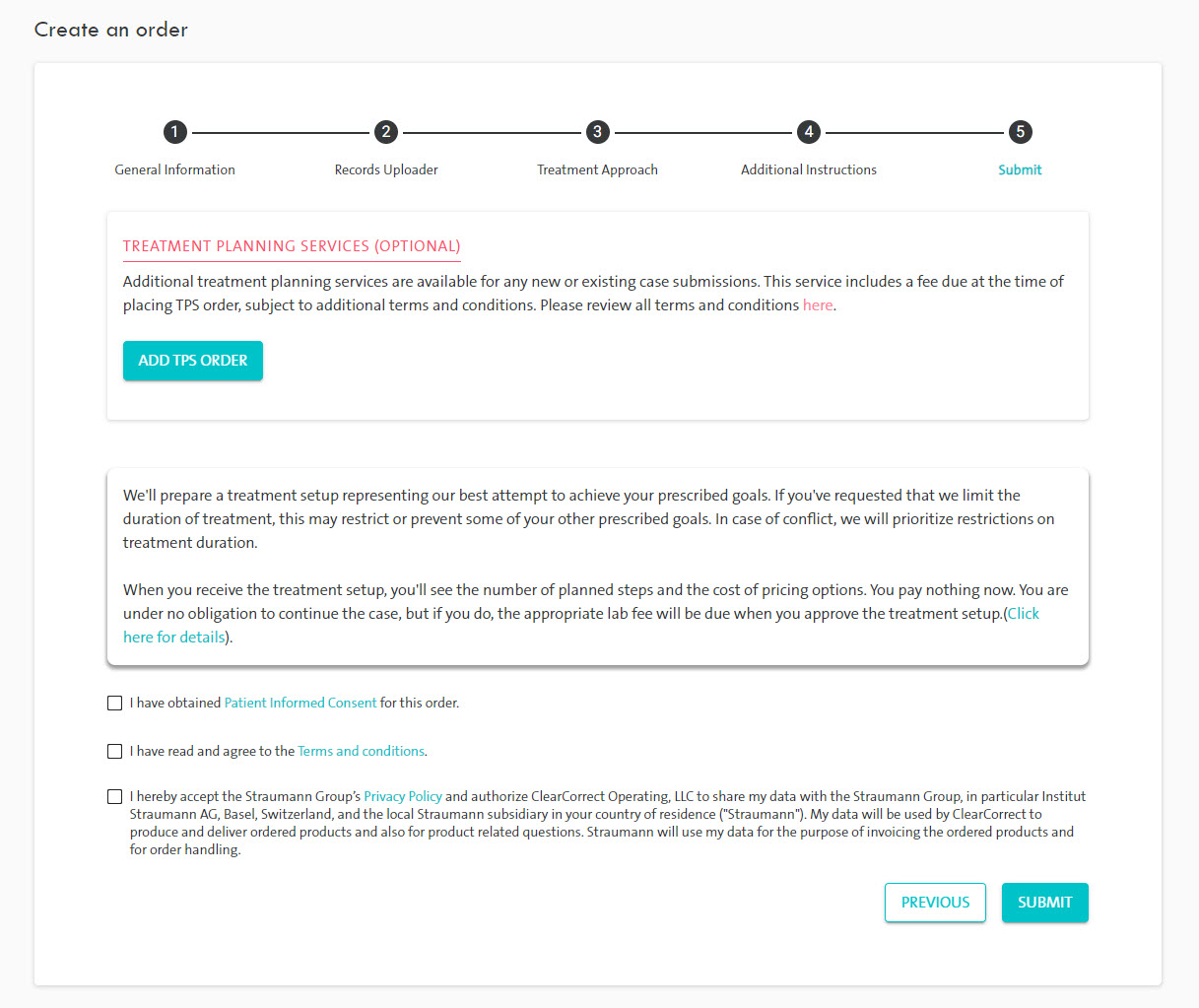 ---


Printing Shipping Label and Shipping Instructions
If you are submitting impressions, please see the following article for more information to ship to ClearCorrect.
---


Case Pricing/Payments
The pricing and treatment options for the order you created is provided once you have reviewed and approved the treatment setup for that case. There isn't a guideline for selecting the correct treatment option as it entirely depends on your and the patient's treatment goals, but we have provided some information that may help you in this article.
As soon as you approve the treatment setup, we'll start making the aligners.
480.644_en_02