When teeth don't move as planned, you can request a case revision.  When you request a Revision your patient's treatment will be re-staged to target the original treatment goal, starting from the current position, unless you have requested otherwise. Depending on the treatment option you choose for your case, revisions may be included in the cost of treatment. For FLEX cases, additional fees will apply. Revisions must be submitted within one year of the original case submission date to be included in the ONE package. 
For information regarding case revisions, refer to the following:
---


What to do before submitting a revision
If a patient comes in for an appointment in the middle of treatment and their next set of aligners doesn't fit, there are a number of reasons this can occur. We recommend you check out the following articles on this subject to prevent an unnecessary revision. 
If the case does need a revision, one can be submitted online very simply.
---


How to submit a case revision
Case revisions must be submitted online. Here's a step-by-step for submitting a revision along with some important tips.
1. In the Doctor Portal, go to "Manage Orders" and click on the case that you want to revise.
2. When you select a case with a phase scheduled you'll see a "Revise" button at the top right of the case page.
3. When you click the "Revise" button it will take you to a new page titled "Request a revision".
4. For each arch you are requesting a revision, select the existing model, scan or impression from the dropdown and the step the patient is currently wearing.
If the current aligners fit well and you just want to request a change (i.e., adding engagers or requesting overcorrection), select the option to use existing models.
If you select the option to submit PVS impressions, you'll be presented with an option to ship them after you submit the revision request. Tip: When submitting new impressions or scans, take them before starting the online submission process.
If you select any of the other scanner options, you can upload the scans along with the revision request or submit the request first and upload the scans later.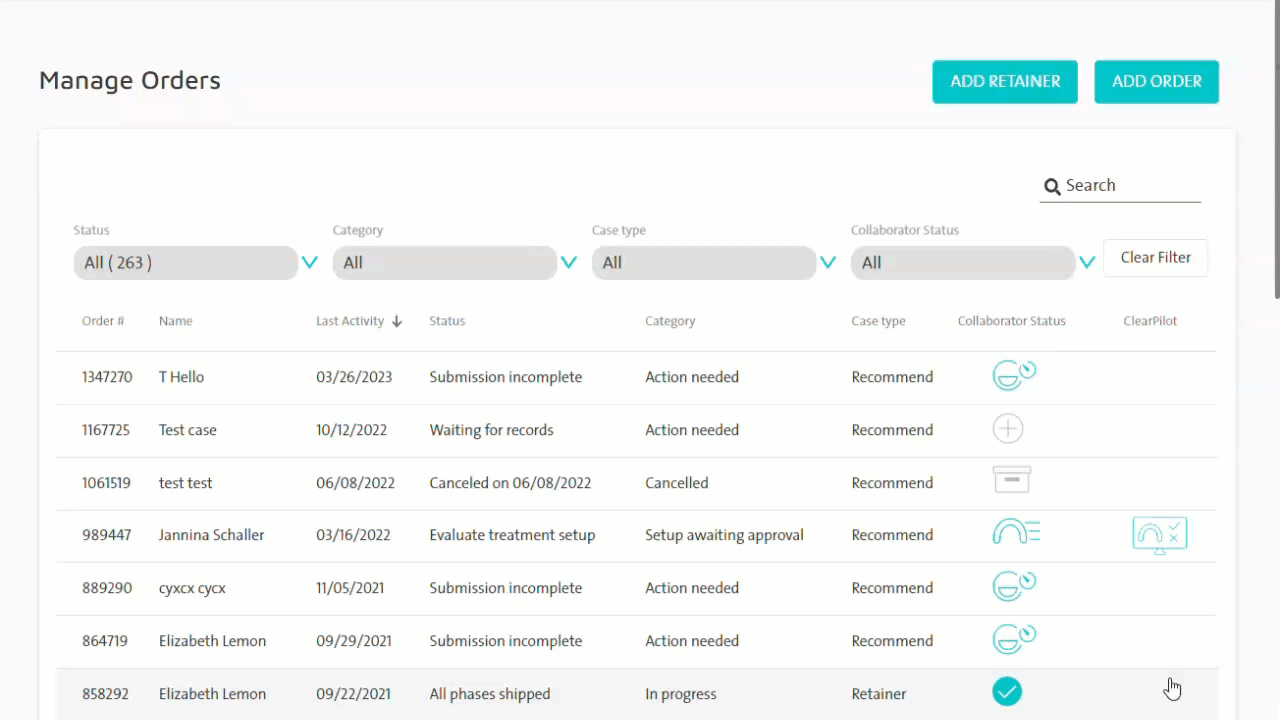 Notes: Have the patient continue to wear the current step until the revision arrives. 
If you submitted your case as a dual-arch case, it cannot be changed to a single-arch case mid-treatment. Make sure you send scans or impressions for both arches when submitting a revision, even if you're only adjusting one arch. The aligners for the other arch will be passive (essentially a retainer) to keep everything in place and prevent relapse.
Tip: Remove all existing engagers before taking new impressions to improve accuracy.
5. Provide detailed instructions to the technician, including:
Existing condition of treatment
What issues do you wish to overcome in the revision
What is not tracking?
In what angle/view do you see the issue?
How do you want things to be – what do you want changed?
What troubleshooting have you tried if any?
Specify any additional requests:
Tip: If you would like the same engager placement in your revision, you will need to specify in the revision instructions which teeth you would like the engagers to be placed and/or remain in the treatment.
The more information you provide the better. If your instructions are unclear, you will be contacted to confirm before we manufacture your revision.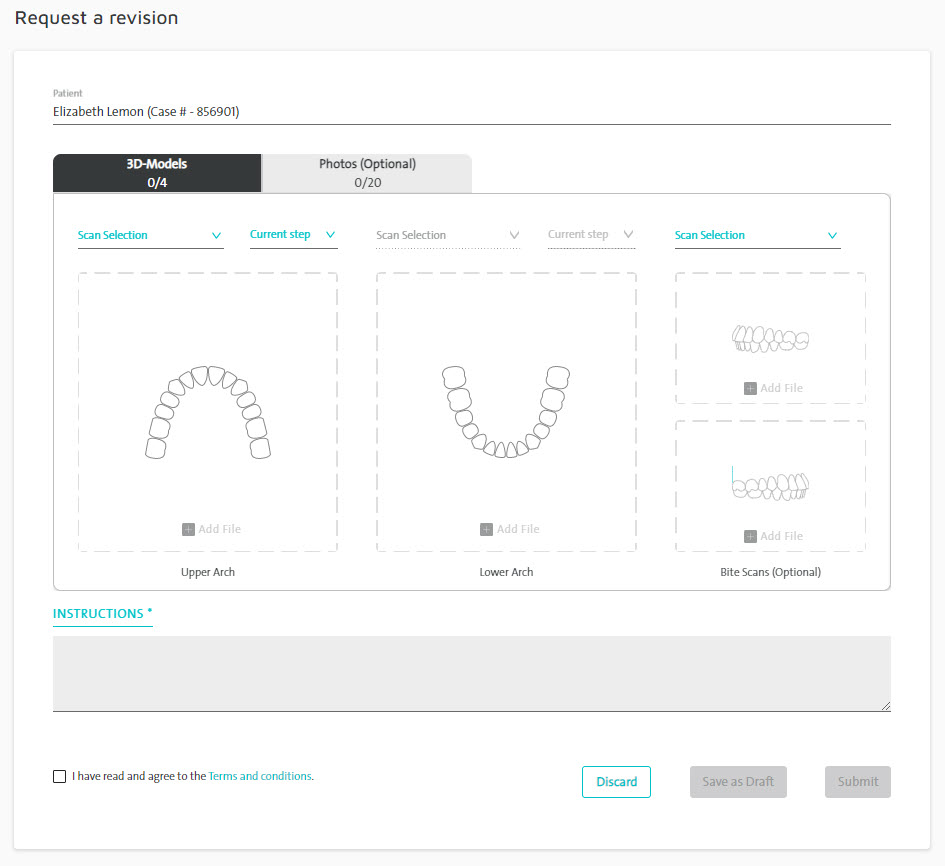 Tip: If you're submitting a revision for "ill-fitting aligners", for "engagers not fitting in the aligner" or for a specific tooth "not tracking", there isn't a way for us to determine the patient's current condition unless new impressions or scans are sent in. For these types of revision submissions we always require new impressions/scans to get to the root cause.
6. Agree to our Terms & Conditions, then click "SUBMIT".
Once you click "SUBMIT", you will receive a revised treatment setup within a few days for your approval.
If you want to print a copy Revisions for your records, you can download one by clicking on the download icon in the documents tab on the case page.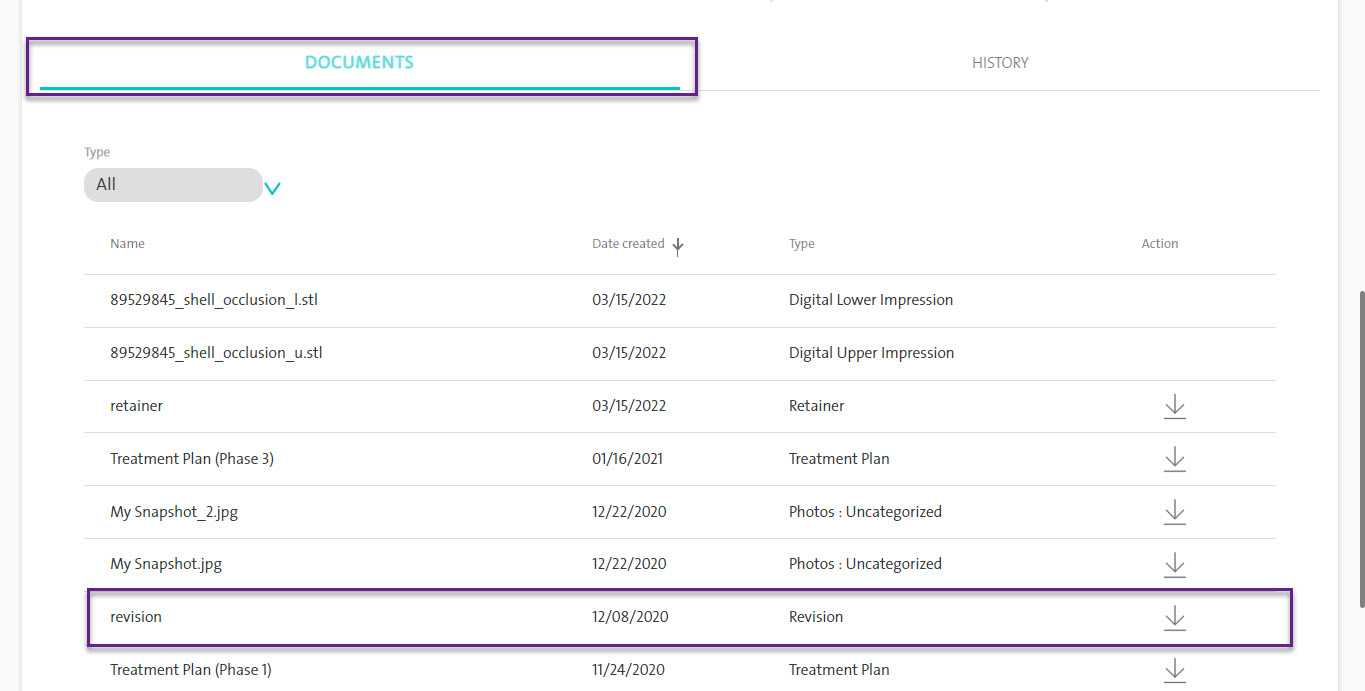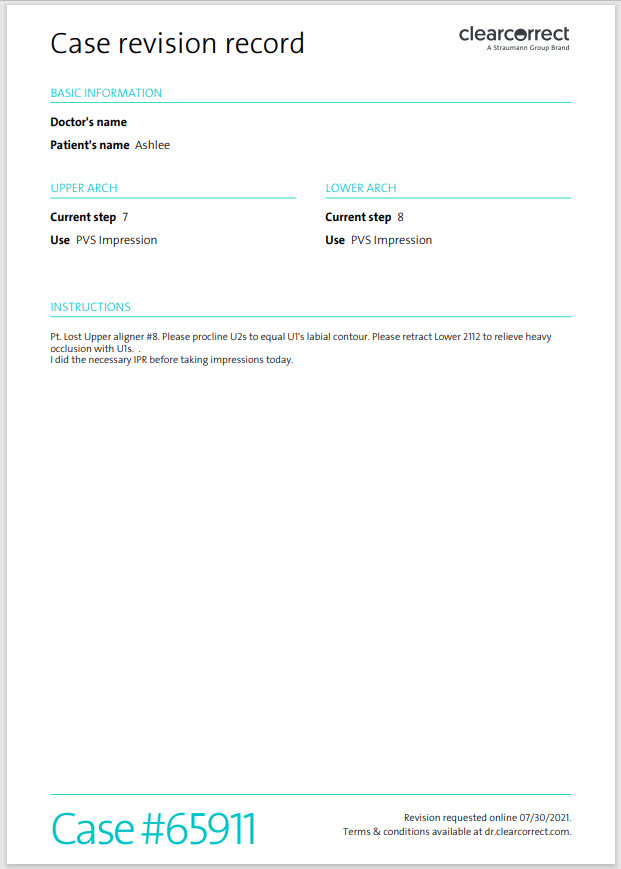 ---

When not to send a revision
Following are circumstances when you should not send a revision:
To request any of the above actions, contact one of our helpful Customer Care representatives and they can assist you. 
480.1345_en_02