For Submitting a case - FAQs, refer to the following:
---


Where do I find the pricing options for my case?
The pricing for the treatment option for the case you are submitting are provided once you review and approve the treatment setup for the case.
When you approve the first treatment setup for a patient, you may choose from any of the available treatment options.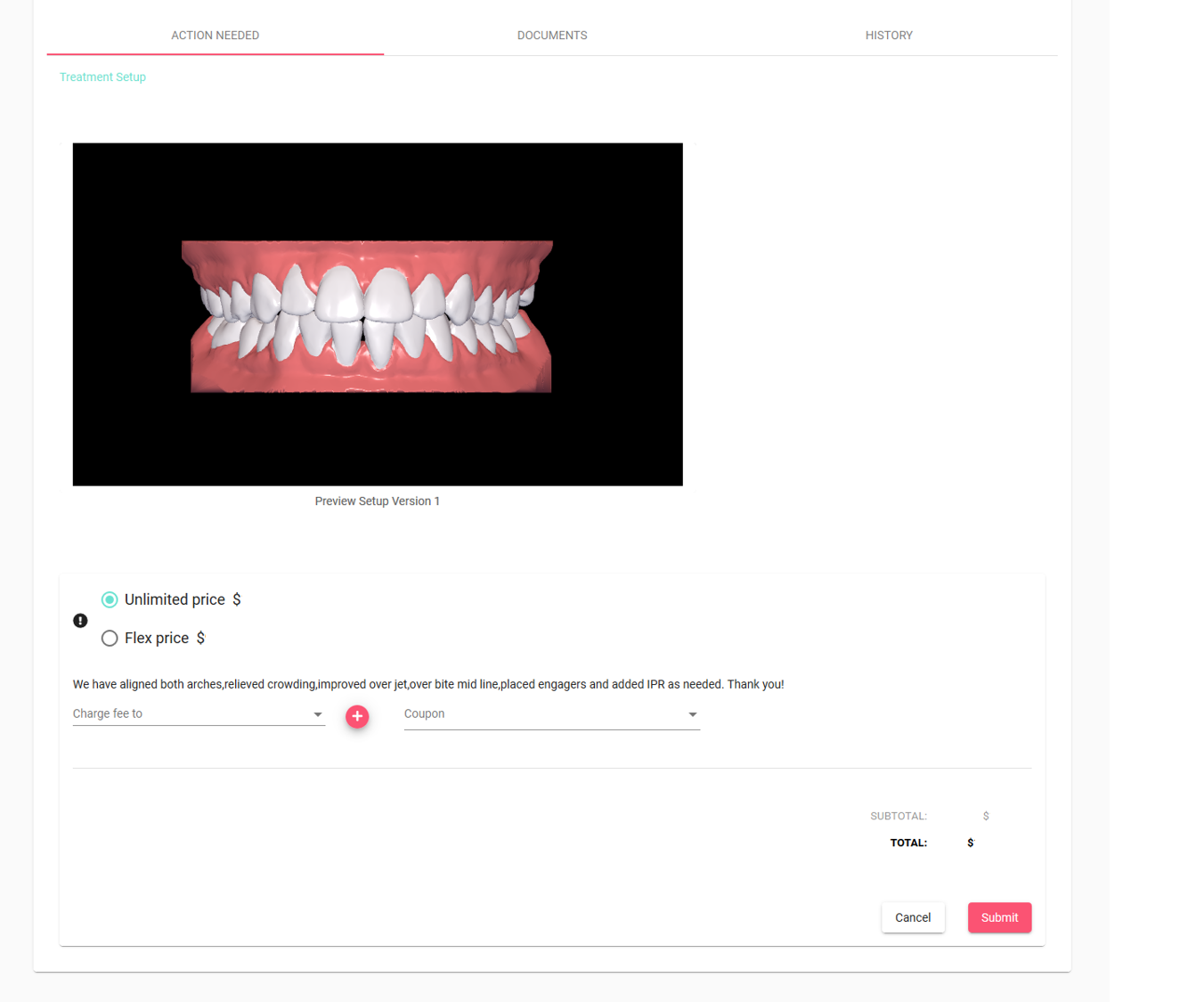 ---


Can I upgrade to Unlimited after approving a setup?
No. The time to choose between the pricing options is when you approve the treatment setup. Once you've made your decision, it's final.
---


How can I estimate how many aligners will be needed?
ou don't have to worry about it. Just submit the case, and we'll show you how many steps it takes to attempt to reach your goals on the treatment setup.
With education and experience, you'll get a better feel for how long different types of movement might take.
If you need to keep treatment within a certain duration, due to time or cost constraints, choose the "Limit" option when submitting your case, and consider limiting your goals to minor anterior movements.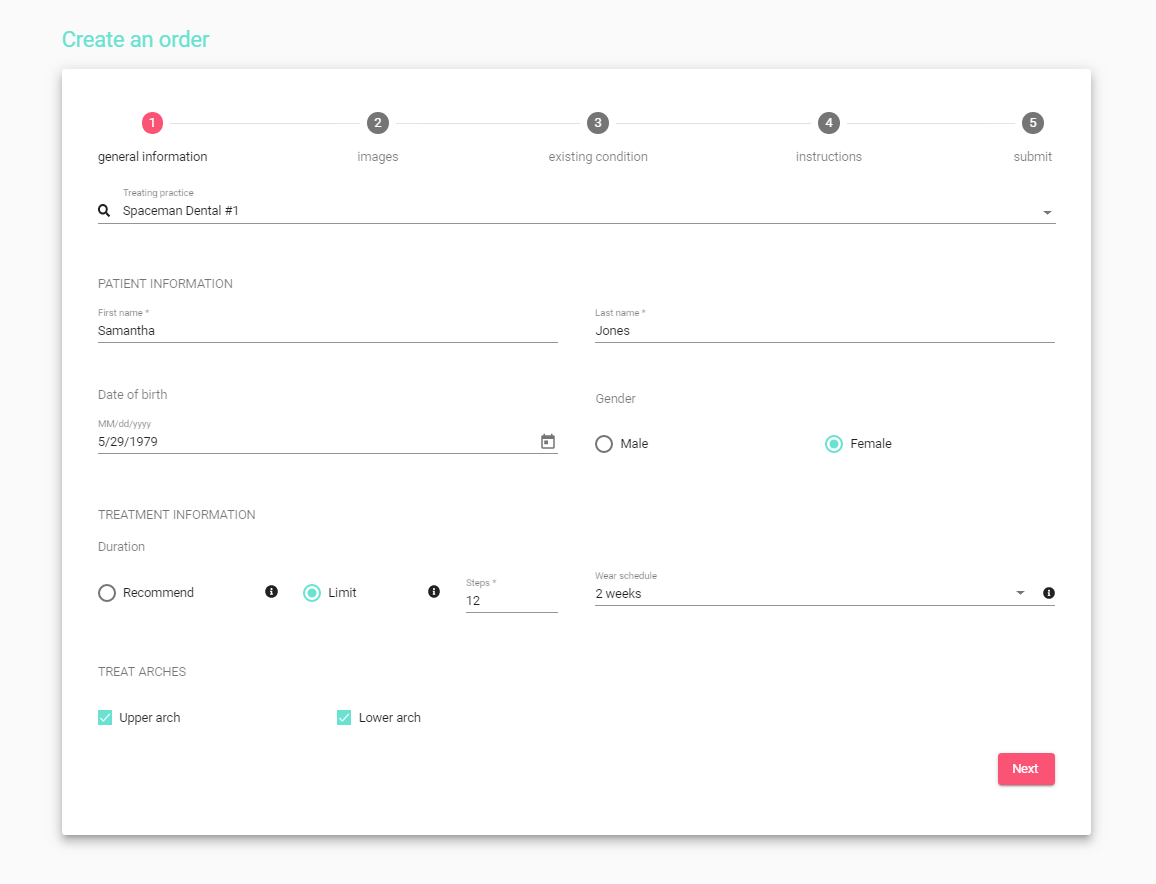 ---


Do you have a guideline for selecting the right price option?
You don't have to worry about this until you approve the treatment setup. When you do, you'll see the planned steps and the upfront cost for any of the available treatment options.
You can find more guidance here.
---


Do I need to take a cephalometric x-ray?
No. We don't require x-rays but if you have them, its a good idea to upload them with the case. We accept panoramic x-ray or a full mouth x-ray series (FMX). See this article for more information on photos & x-rays.
---


Can I do IPR before I take impressions and request no additional IPR?
Generally speaking, no. We recommend taking impressions first, and waiting to perform IPR until the recommended phase, for the following reasons:
Impressions do not always capture enough detail to reproduce the spacing properly.
If more IPR than necessary is performed in one arch, you might need to perform IPR in the opposing arch to compensate. (We usually recommend IPR in just one arch, whenever possible.)
It's best to minimize the amount of time that patients have excess space between their teeth.
You may not be able to use the area where IPR was performed as a Compliance Checkpoint for some time.
---


How do I verify the details of my case submission before I submit it?
To verify the details of your submission, you can review the information by clicking on any of the step numbers to ensure the information you have input is correct.

---


Is overcorrection built into the treatment setup?
Overcorrection is only added to the case per the doctor's instructions. Overcorrection can be requested at the beginning of a case when filling out the submission form, when submitting a revision or when reviewing/approving the treatment setup.
---


How do you determine which teeth will start the movement? (Or, phrased differently); How do you stage treatment?
First and foremost, we follow your prescription. Whenever we don't have specific instructions, we apply our default protocols on a case-by-case basis to help get the outcomes you prescribe for your patients.
---


Sometimes I need help evaluating the treatment setup, what should I look for?
When approving a treatment setup, it's best to begin with the end in mind—consider the whole treatment and the goals for that particular patient. Also, when filling out the case submission form, the more information you give the better treatment setups you'll receive.
For more information, see our recommendations for how to evaluate the treatment setup in our Help Center article on this topic.
---


Is there a process that I can tweak the final treatment setup myself?
Not at this time, though we are aware that doctors are interested in this functionality. The current process for adjusting your treatment setup is described below.
---


How do I make adjustments to a treatment setup?
If the 3D model looks inaccurate, you want to move the teeth differently, or you want to cancel the case, click "DISAPPROVE" on the case page under the "ACTION NEEDED" tab, and let us know what you want to do. Our technicians will do their best to make any changes you request and upload a new version of the treatment setup for your approval within a few days.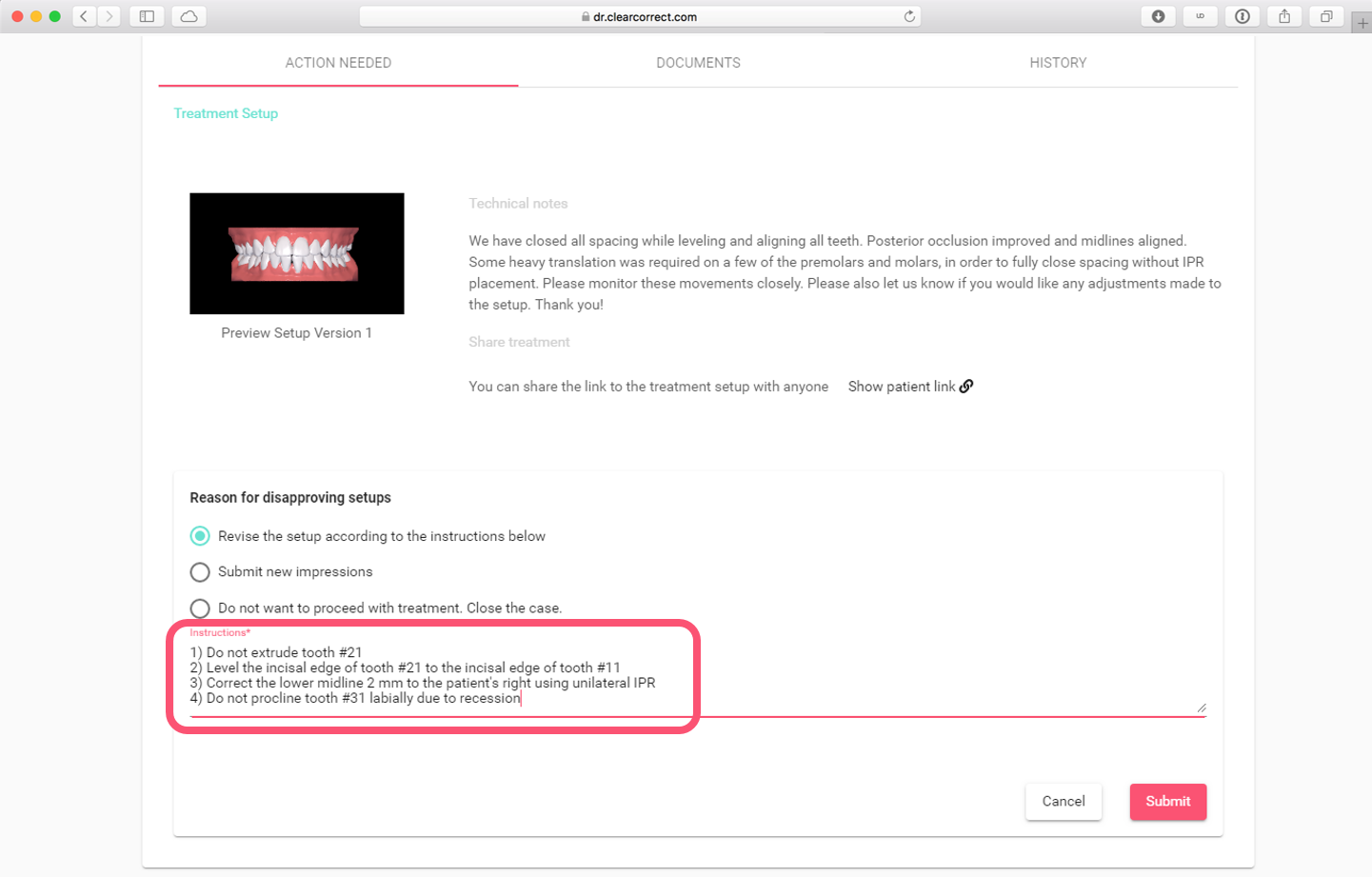 ---


How can I have a virtual power chain added to the end of the treatment setup so that I have all the required aligners, including for the power chain, without having to request a revision?
When submitting the case, just ask for overcorrection with a digital power chain on the last two steps in order to get a virtual power chain without having to request a revision.
---


What if I forgot to include something with my case submission box?
If you forgot to include some of the required items in your submission box (or if you need to send replacements for unusable impressions), send them to us in any suitable shipping box, along with a packing slip (can be printed from the "ACTION NEEDED" tab, which is where the case will be located if there are any missing records or items) or any piece of paper with the patient's name and case number, so we can identify who the additional items belong to. The brown boxes that we use to ship aligners to your office are designed to be re-used to ship impressions, but we're not picky—you can use any appropriately sturdy corrugated carton.
---


How can I finish up an incomplete submission?
If you have an incomplete submission that you would like to finish up, you can simply click on the patient's name on the "Manage Orders" page.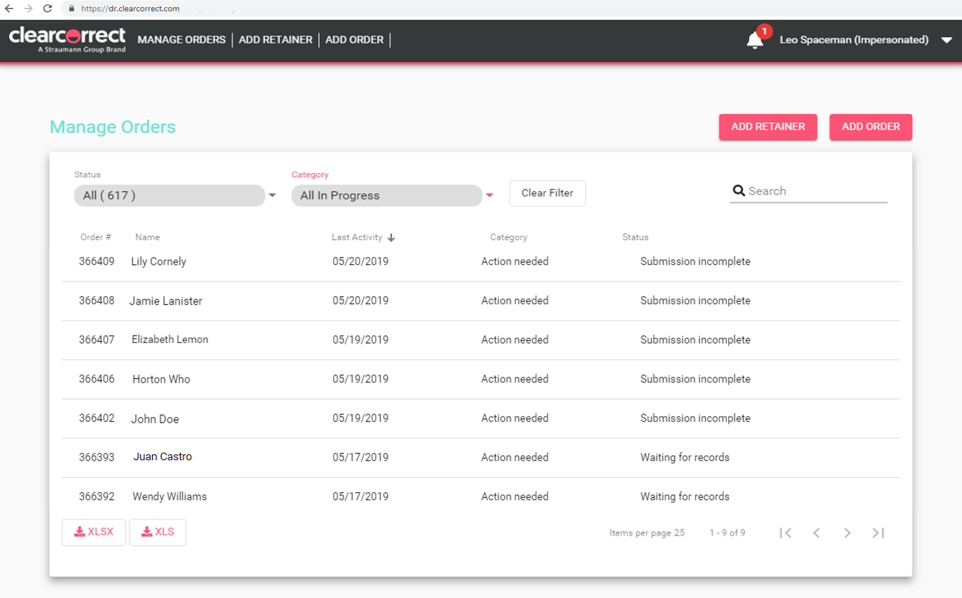 ---


How do I add/remove photos for a case I already submitted?
If you did not include any photos when submitting your case, you should see "Waiting for records" on the "Manage Orders" page. If you click on the case, under the "ACTION NEEDED" tab, there will be an option to upload the photos to complete the submission.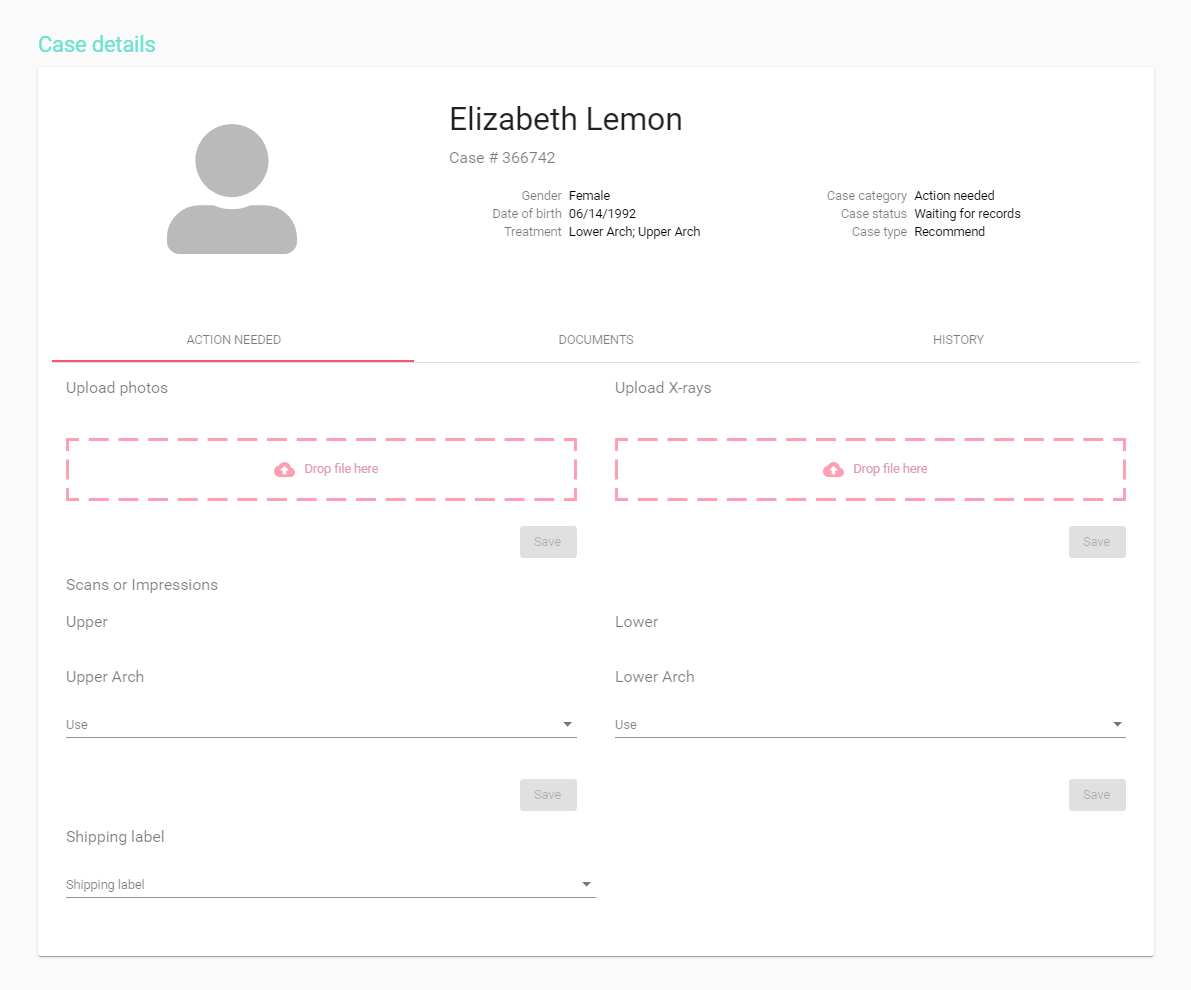 If you included some photos, but need to remove them or add more, then you will need to call, email or chat with Provider Services for assistance. They will update the case page so that the correct/additional photos can be uploaded.
480.684_en_01