ClearCorrect is a medical device manufacturer. Treatment decisions and case diagnosis are entirely the responsibility of the prescribing doctor.
For information regarding During Treatment - FAQs, refer to the following:
Treatment questions
Trimming questions
---
Treatment questions
Where can I check on the status of my case?
You are able to check the status of your case under "Manage Orders" in the Doctor's Portal. This is your default screen after you first login to your account. You can refine your search by using the "Status" and "Category" dropdown menus.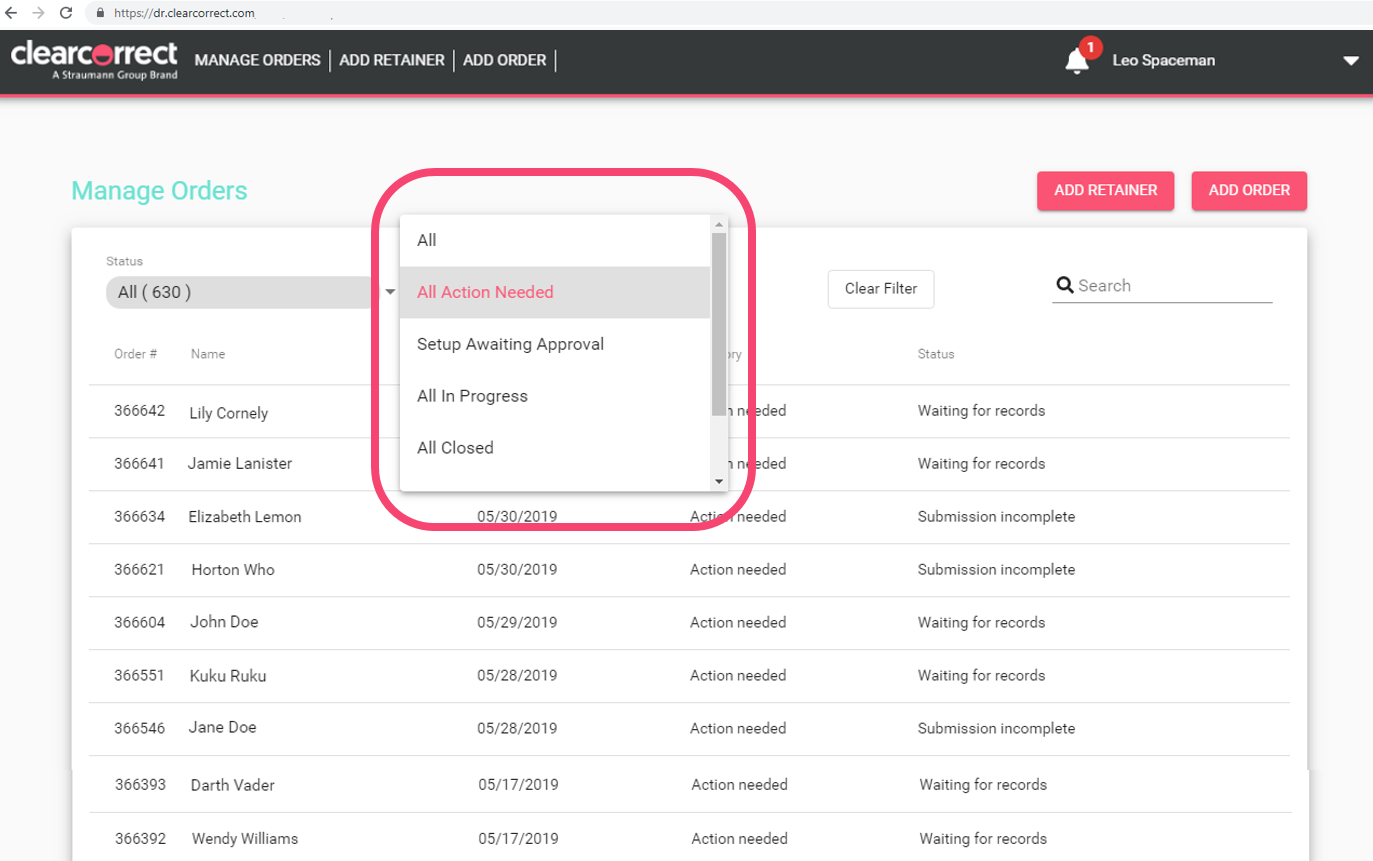 ---


How do I cancel a case?
You'll need to call, email or chat (if available in your area) with Provider Services to cancel a case. Please note that cases where you have already approved the treatment setup will not be issued a refund.
---


How do I order and pay for a remake?
To order a replacement aligner you can contact our Provider Services team by phone, email, or send us a quick chat (if available in your area). We will need the patient's case number, which arch (upper, lower, or both), and which step needs to be remade.
---


Can I put treatment on hold?
If you want to delay or hold the shipment of a particular phase of aligners, contact our Provider Services team to discuss your options. Putting your treatment "on hold" in general is rarely beneficial, as it will not extend the 5-year Unlimited Treatment period or reduce the price of additional treatment.
---


How do I rush/expedite my case?
To rush or expedite a case you'll need to contact Provider Services either by phone, email, or by sending us a chat (if available in your area). There is a fee for rushing/expediting cases and the case will be shipped 5-6 business days from the date requested. During holidays a rush request may not be available.
---


What are some of the key indicators that a patient is ready to move to the next aligner?
Full and complete fit of current aligners

Patient able to easily remove and place current set of aligners

Loose contacts and spaces closed at Compliance Checkpoints

Planned tooth movements have occurred
---


What is the best way to determine if the set of aligners has accomplished its goal?
A sign that the aligner has "done its job" is unquestionable good fit of the current aligner. However, even if aligners appear to fit properly and comfortably, that doesn't guarantee that the teeth are actually moving as intended. For suggestions on how to identify unseen tracking issues before treatment goes off track, see our article on Tracking Issues. A tight fit of the next aligner may very well be due to a considerable amount of tooth movement programmed for the next stage.
---


Does treatment need to track exactly as laid out in the treatment setup that I approved?
Yes, precise tracking is very important for a successful treatment result, otherwise, a revision will likely be required.
---


What do I do if a patient's teeth feel loose or mobile?
One doctor asked:
I have a patient that is in the middle of treatment and I noticed that some of the teeth are mobile or feel loose. The patient did not have any periodontal problems before treatment and keeps their teeth clean. Should I stop treatment until the mobility goes away or should I not be concerned about this and continue with aligner treatment?
Our Chief Technology Officer, Dr. James Mah, responds:
---


Can I treat a patient that grinds their teeth with ClearCorrect?
Habitual tooth-grinding can make clear aligner therapy difficult—unless you are willing to work around it. The main problem with this issue is that the constant grinding of the teeth wears down the aligners to the point that the material loses its retentiveness. Therefore, the patient may wear the aligner out before it has a chance to move the teeth adequately during that step of treatment.
However, if you are willing to be flexible and manage the patient's treatment more closely, you can work around the grinding.
We suggest that you determine how long it takes your patient to wear down one set of aligners, then adjust their aligner wear schedule accordingly. Then, order replacement aligners of each step in order to actively progress through treatment. For example, if your patient grinds down an aligner in two weeks, have your patient switch to a one-week wear schedule. This should solve the problem.
---


Can a patient wear a mouthguard during treatment?
Protecting the teeth and face against injury with a mouthguard while playing contact sports is extremely important, especially when your patient has invested time and money into their orthodontic treatment.
The patient may simply remove their aligners and wear a standard mouthguard during sports practice or games, then replace the aligners right after the activity is over. Instructing the patient to keep their aligner case in their sports bag (with Chewies to help seat the aligners) will also encourage compliance.
If you or the patient are concerned about removing the aligners for an extended period of time, you may instruct the patient to wear a mouthguard with their aligners. Companies like Shock Doctor make special mouthguards for patients with orthodontic treatment. Be sure to use an aligner that doesn't need to be worn anymore (or make a "sacrificial" aligner in your practice) when fitting the mouthguard to protect the integrity of the patient's current step.
Remember -- ClearCorrect aligners should never be used in lieu of a sports mouthguard, and the patient's teeth may move slightly during any time they are not wearing their aligners. Please use your best judgment when instructing your patients on treatment.
---


How do I accommodate sleep apnea appliances & clear aligners?
One doctor asked us:
I have a patient that wears a nighttime appliance for snoring/sleep apnea. What do I have to do to accommodate both clear aligners and the nighttime appliances while they are in treatment? Do the appliance trays provide adequate retention or do you have to make the appliance fit over the clear aligner?
As you know, clear aligners should be worn for at least 22 hours per day. If your patient removed the clear aligners each night to wear the sleep apnea appliance, not only would it cut into your patient's wear-time, the appliance could actively work against the aligners, pressuring the teeth back into their original positions.
So, tight-fitting custom sleep apnea appliances probably can't be used during clear aligner treatment.
If you use a loose-fitting sleep apnea appliance, it may be less likely to interfere with the aligners. You could also consider a non-fitted device, such as the aveoTSD or a CPAP machine.
Please note: We have not tested ClearCorrect for use with sleep apnea appliances. We cannot guarantee the safety or efficacy of any sleep apnea device when used with clear aligners.
If your patient just stops wearing a sleep apnea appliance during clear aligner therapy, remember that they'll probably need a new sleep apnea appliance at the end of treatment, to fit the new configuration of their teeth.
---
Trimming questions
Why do your aligners overlap the gumline?
We trim our aligners with a smooth contour, overlapping the attached gingiva, based on clinical research which demonstrated big improvements to retention using this technique.
---


Can I make custom trimming requests?
Unfortunately, we are not able to accept custom trimming requests. We trim all aligners using the same standard protocol. If you want to customize your aligners, you can do so fairly easily in your office with a buffing wheel.
---


What should I look for if my patient complains of sore gums?
ClearCorrect aligners go through a multi-stage polishing process, so actual rough or sharp edges should be quite rare.
It is fairly common, however, to experience some discomfort for the first few days wearing an aligner. This often indicates that the soft tissue is getting used to having foreign material present in the mouth. Changes to the mucosa eventually fade away when the patient stops wearing aligners.
If the gums are being impinged, one possibility is that the gingiva were not captured accurately in the impression. We prefer 3-4 millimeters of gum to be included. Impressions that do not have the full 3-4mm of gumline captured will affect the production of the models. See this article for tips on taking quality impressions.
You may also want to look for frenum pulls. These can be difficult to detect because the aligner may feel comfortable at first, but as the patient speaks and moves around, the frenum becomes irritated and ulcerated. Unfortunately this dynamic movement is not captured when taking the impression. Clear photographs can help to identify these. Gingival frenum pulls are rare, but when they occur, they are typically found in the maxillary premolar and midline areas. If this proves to be a problem, you may want to trim the aligner shorter in the affected areas.