For information regarding rocking Aligners, refer to the following:
---


Definition
Rocking is when one side of the aligner first but the other does not. The side that is tracking will fit nicely (flushed), but the side that is tracking poorly will not want to sit at all.
Trying to sit the aligner on either side yields the same results since the aligner will react like a rubber band when stretched beyond to elastic capabilities. If you try to sit the poorly tracking side first, when you then try to sit the aligner on the tracking side, the poorly tracking side will start to lift even more at the gingival of buccal side and cause extreme pressure.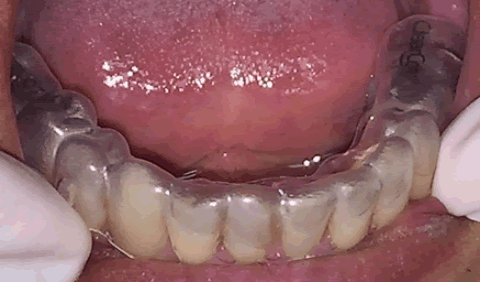 ---


Causes
Aligners rocking can be caused by any of the following:
The impressions used contained minor distortions
Molars have not distalized as expected
The arch in question has not expanded as expected
Lack of retention
Less common causes:
In hot climates, the aligner may have distorted from exposure to high temperatures, particularly inside vehicles.
The patient may have had a sealant or restoration placed on a tooth unbeknownst to the dentist providing aligner treatment.
---


Solution
Here are some suggestions of what you can do if your patient's aligners are rocking:
Look for impression distortions from the original impression. This could help to pin point how the tracking issue started.
Try adding dimples using thermopliers
Try backtracking using the previous aligner
Add engagers (you will need to request a case revision to have more engagers added)