We provide this document so you can inform your patients of potential risks associated with clear aligner therapy, and set their expectations appropriately. The final section is a legal agreement between you and your patient, establishing that your patient consents to receive treatment and understands the risks involved. We encourage you to review the information on this form with your patients and sign it together.
Collect before beginning treatment
Covers what clear aligners are and how they work
Potential risks of clear aligners in relation to:

Adverse reactions
Potential dentition issues (black triangles, irritation of soft tissue, IPR, tooth sensitivity, etc.)
Potential relapse
Additional costs

Explains what patients are agreeing to in relation to treatment and results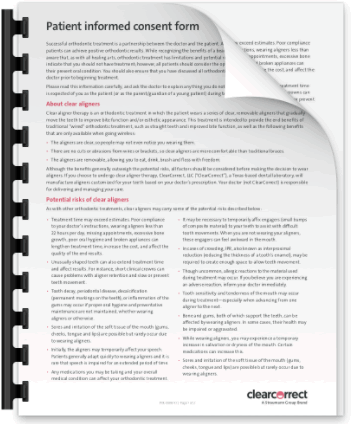 When you submit the case, you will be required to confirm that you have obtained a signed copy of this document for each patient.
The Patient informed consent form for your area can be found when you sign in to the Doctor's Portal in the footer section.

For doctor's not using the new portal you can get the patient informed consent form by contacting Provider Services.