For information regarding extrusions, refer to the following:
---


Definition
Extruding with auxiliaries is a technique used to extrude a tooth that has not erupted as desired to create an aesthetically aligned smile. Extrusions are one of the more difficult movements to achieve with clear aligners.
It is important to watch for extrusions not occurring with your cases, as this can be one of the reasons a patient's treatment has gone off track.
---


Spontaneous Intrusion
Spontaneous intrusion of one or both of the upper lateral incisors is a common form of "non-tracking". Although the actual cause of this phenomenon is unknown, a plausible explanation is that the laterals are "squeezed" up into the alveolar bone. Pressure from the surrounding teeth may cause the lateral to intrude. Those intruding teeth need to be extruded in order to reach the original treatment goals. Even the presence of an engager (or attachment) cannot prevent the intrusion phenomenon.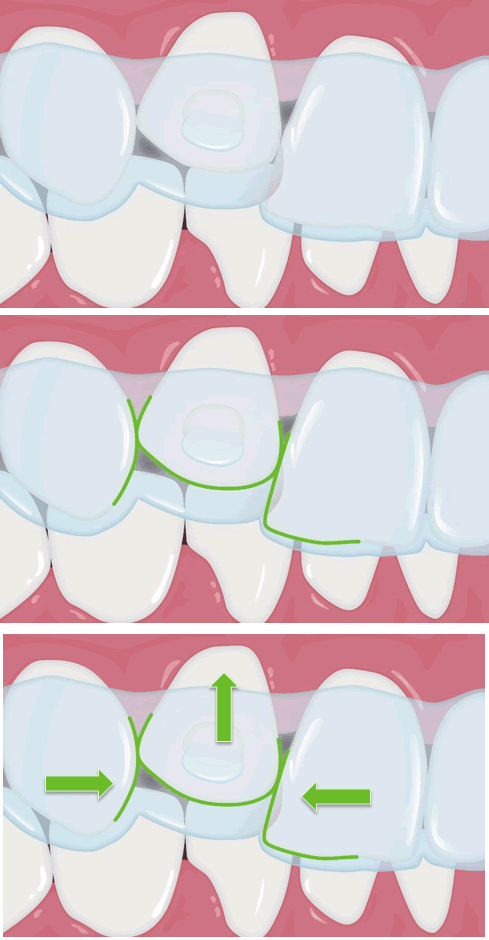 Uses
Extruding with auxiliaries can be used when:
A tooth does not erupt as desired
The above mentioned intrusion phenomenon has occurred
As always, the patient must wear the aligner (and elastic) for a minimum of 22 hours each day, or the process will not work.
---


How to extrude Teeth with Auxiliaries
Parts Needed

To extrude teeth with auxiliaries, perform the following steps
1. Use the punch plier to create facial and lingual cutouts so that the aligner does not interfere with the button.

2. Adhere a bracket or button to the facial and lingual of the tooth near the gingiva.
NOTE: Both buttons are placed on the tooth, not the aligner.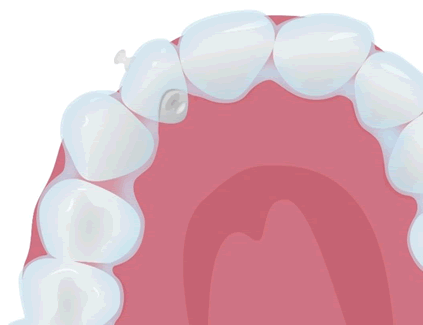 3. After insertion of the modified aligner, stretch a small elastic from the lingual button to the facial button over the aligner.