For information regarding ClearCorrect aligners, refer to the following:
---


Overview
ClearCorrect aligners are a unique combination engineered to move teeth more predictably.
If you consider what it takes to move teeth, you'll find that very simply it's just consistent, continuous force. ClearCorrect aligners are uniquely designed to deliver exactly that, because only ClearCorrect aligners feature a high and flat trimline above the gingival margin, combined with our proprietary ClearQuartz tri-layer aligner material and new customizable features. The resulting aligner is remarkably retentive and effective, and doesn't sacrifice comfort, clarity, or resilience as it helps you achieve optimal results in a wide variety of cases.
| | | |
| --- | --- | --- |
| | | |
| ClearQuartz Tri-layer material | High flat trimline | Customizable clinical features |
---


ClearQuartz Tri-layer Material
ClearQuartz is a tri-layer material that provides greater orthodontic control by combining two layers of resilient polymers with an elastomeric inner layer, resulting in gentle, consistent application of force.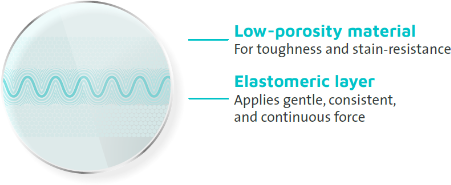 ClearQuartz retains 10x more of its initial force than many competitors*, retains its shape throughout the wear time of the aligner**, and has proven durability, demonstrating 4x more tear resistance than single layer polymers***.
*Data on file. Over 72 hours.
**Data on file.
***Data on file.


Features
There are a lot of valuable features associated with ClearQuartz, but here are some of the main features to be aware of:
The material has 3 layers:

Outer shells that are tough and with low porosity
An elastic inner layer
The outer layers provide:
Toughness to help reduce wear
Minimized staining
Improved tooth grip
The inner layer provides:
Better elasticity and reduced stiffness
More predictable force application due to the enhanced elasticity
Consistent and continual force application
| | |
| --- | --- |
| ClearQuartz was designed to provide efficient and accurate movements due to the elasticity and adaptation while remaining comfortable for the patient. | |


How does it work?
3-dimensional engineered properties: forces applied in any direction receive the rebound response.
| | |
| --- | --- |
| The elastic layer improves translation | |
| The elastic layer improves rotation | |


What does the 3-layer structure do?
Some benefits of the 3-layer structure are:
The elastic middle-layer enhances tooth-moving force and comfort because it's able to recover its form.
The material is more durable because the elastic layer absorbs excess forces and reduces crack or tear propagation.
This elasticity provides more comfort to the patient.
| | |
| --- | --- |
| ClearQuartz™ tri-layer material | |
| Other single-layer material | |


Multi-layer vs. Single-layer Material
Combining the properties of both flexible and rigid resins in a multi-layered film allows for greater tear resistance, lower initial force, more consistent and longer sustained force, and a more precise fit compared to the properties of other resins used in other aligners (e.g., polyethylene terephthalate)*.
*Compared to ClearCorrect aligners previously made from single-layer .030 (Zendura A) material.
| | |
| --- | --- |
| Multi-layer Material | Single-layer Material |
| Combined layer material allows for the advantages of both soft and hard materials | Single layer materials are either soft (less thick) or hard (thicker). You can only get one benefit at a time. |
| Improved crack and tear resistance | Easier to crack |
| Elastic layers allow the aligners to keep their form as well as maintain continuous force | Form is lost faster as it wears out quickly |
| More recent innovation | Original clear aligner materials were single-layered |
---


The ClearCorrect Trimline
ClearCorrect's high and flat trimline, scientifically proven clinical features, and custom manufacturing technology and processes result in an aligner that delivers greater control and consistent force application to achieve complex movements more predictably.
With a smooth, unscalloped, high and flat trimline that extends beyond the gingival margin, ClearCorrect aligners have been clinically proven to optimize force transmission for more accurate tooth movement and enhanced root control*.
The effect of the trimline design of orthodontic aligners on force transmission was evaluated in a 2022 publication. The study concluded that the forces transmitted to the middle and cervical areas of the tooth with the high and flat trimline, were significantly higher and closer to the center of resistance, potentially improving control of bodily movement. On the other hand, the scalloped trimline design was shown to be more flexible, reducing the amount of force applied to the tooth near the gingival area, required for a controlled tooth movement.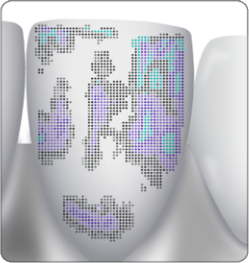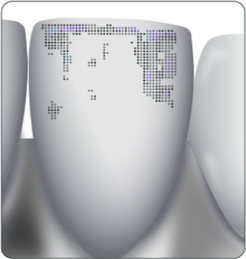 Representative superimposition to understand the stress distribution areas over the upper right central incisor, using different trimming line designs. Adapted from: Elshazly, T. et al. Effect of Trimming Line Design and Edge Extension of Orthodontic Aligners on Force Transmission: An in vitro Study. Journal of Dentistry (2022). doi: https://doi.org/10.1016/j.jdent.2022.104276
In addition, it has also been proven that aligners with a high and flat trimline are over 2.5x more retentive than scalloped aligners, which reduces the need for retentive engagers*. In a 2012 study, doctors from the University of Nevada compared the retentive strength of three trimming techniques:
A) a scalloped margin,
B) a straight cut at the gingival zenith, and
C) a straight cut at 2 mm above the gingival zenith.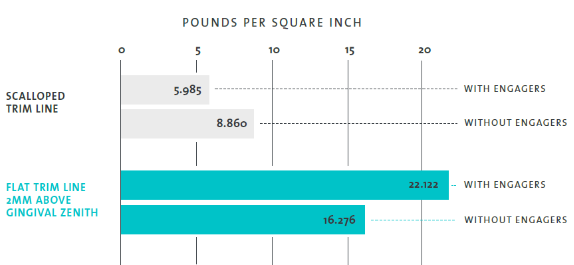 The difference between the techniques was remarkable. For clear aligners without engagers, the straight cut 2 mm from the gingival margin was about twice as retentive as the scalloped cut. For clear aligners with engagers, the straight cut 2 mm from the margins was over four times as retentive as the scalloped cut.
In summary, fewer attachments mean better esthetics, less visibility, which means happier patients.
Lastly, ClearCorrect's custom manufacturing process improves tooth surface contact for optimized force distribution and accurate tooth movement**.
Elshazly, T. et al. Effect of Trimming Line Design and Edge Extension of Orthodontic Aligners on Force Transmission: An in vitro Study. Journal of Dentistry (2022). doi: https://doi.org/10.1016/j.jdent.2022.104276
*The effect of gingival-margin design on the retention of thermoformed aligners" by Daniel P. Cowley, James Mah, and Brendan O'Toole
in the Journal of Clinical Orthodontics: JCO 11/2012; 46(11):697-702.
**Data on file vs 0.030 single-layer material.
---


ClearCorrect Aligner Customization Features
ClearCorrect aligners are customizable to suit your patients' needs. ClearCorrect gives you additional ways to tailor your patient's treatment precisely to their needs: from customizable engagers to anterior bite ramps, to cutouts for elastics, to pontics, bars and guides, clinicians can incorporate any number of treatment strategies to address cases ranging from simple to complex.
Cutouts for Elastics

With cutouts for elastics ClearCorrect offers you more control to perform more complex movements. Confidently treat teens, Class II, and Class III malocclusions.

Select a double vertical slit of half-moon button cutout
Prescribe them in the Doctor Portal and approve them in ClearPilot
Receive your aligners with pre-made cutouts for your patient to start wearing according to your treatment plan

Engagers

Engager sizes are available in 2, 3, and 4mm. Decide what size and orientation are best for your case.

Anterior Bite Ramps

Bite ramps are available in 3- and 5-mm depths and are manufactured ready-to-wear according to your patient's unique treatment plan. Confidently treat deep bites and crossbites.

Pontics and Bars

Tooth shaped pontics or bars are included in treatment when spacing is >3mm. This request may also be made at any step during the treatment and resized as spacing opens or closes. Pontics provide an aesthetic solution for anterior spacing, while bars are frequently used for posterior spaces.

Guides

Guides act as space holders and aid erupting teeth. These guides may be requested as a tooth shape or a bubble shape. Resizing options are available and may be requested to start on any step during treatment.
Not all features shown are available in all markets.
---


The Patient Experience with ClearCorrect Aligners
The ClearCorrect aligner has been developed for patient satisfaction. The tri-layer design of our ClearQuartz material improves comfort without sacrificing durability, and when combined with our clinical protocols, patients may achieve faster results.
| | |
| --- | --- |
| | ClearQuartz's innovative flexible inner layer applies 1/3 less initial force, enhancing patient comfort during aligner treatment* |
| | ClearCorrect aligners have been proven to be more stain-resistant than the leading aligner brand** |
| | ClearCorrect's digital manufacturing technology enhances the trimline design for a custom and more comfortable fit |
The stain-resistance properties of ClearCorrect were tested against the leading aligner brand. In a simulated test, where aligners were immersed in 4 different staining agents, ClearCorrect demonstrated to be more stain resistant, as shown in the results below**.
*Data on file vs 0.030 single-layer material
**Data on file. Aligners immersed in their respective substances for 24 hours at 37°C.
---
480.858_en_02