For information regarding ClearQuartz, refer to the following:
---


Overview
You asked for comfortable, durable, multi-layer aligners that feature sustained force, great clarity, and excellent tooth adaptation.* Our answer: ClearQuartz™.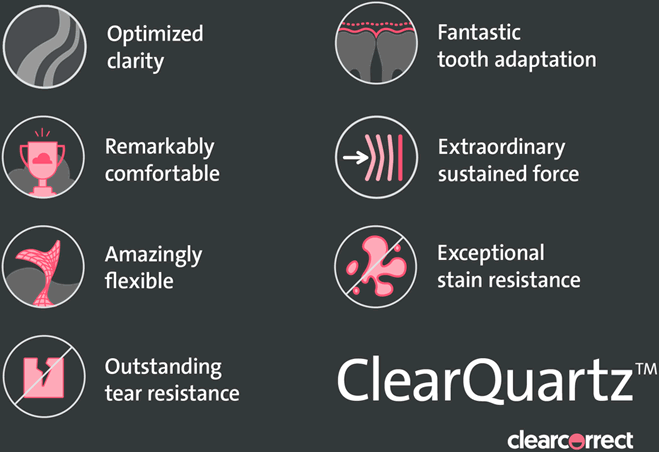 ---


What you need to know about ClearQuartz™
There are a lot of great things about ClearQuartz™, but here are some of the main features to be aware of:
The material has 3 layers:

Outer shells that are tough and with low porosity
An elastic inner layer
All layers are of equal thickness
The toughness of the outer shells help reduce wear
The low porosity minimizes staining
The inner layer provides better elasticity and reduces stiffness
ClearQuartz™ is designed for more predictable force application due to the enhanced elasticity
The shells grip the teeth firmly
The inner layer is engineered to provide consistent and continual force
| | |
| --- | --- |
| ClearQuartz™ was designed to provide efficient and accurate movements due to the elasticity and adaptation while remaining comfortable for the patient | |
---


How does it work?
3-dimensional engineered properties: forces applied in any direction receive the rebound response
| | |
| --- | --- |
| The elastic layer improves translation | |
| The elastic layer improves rotation | |
---


What does the 3-layer structure do?
The benefits of the 3-layer structure are:
The elastic middle-layer enhances tooth-moving force and comfort because it's able to recover its form
It is more durable because the elastic layer absorbs excess forces and reduces crack or tear propagation
This elasticity provides more comfort to the patient
| | |
| --- | --- |
| ClearQuartz™ tri-layer material | |
| Other single-layer material | |
---


Multi-layer vs. Single-layer Material
Combining the properties of both flexible and rigid resins in a multi-layered film allows for greater tear resistance, lower initial force, more consistent and longer sustained force and a more precise fit compared to the properties of other resins used in other aligners (e.g., polyethylene terephthalate).
| | |
| --- | --- |
| Multi-layer Material | Single-layer Material |
| Combined layer material allows to get advantages of both soft and hard materials | Single layer materials are either soft (less thick) or hard (thicker). You can only get one's advantage at a time. |
| Improved crack and tear resistance | Easier to crack |
| Elastic layers allow to recover from and keep continuous force | Form is lost faster as it wears out quickly |
| Most recent innovation | First materials were single-layered |
*Compared to ClearCorrect aligners previously made from single-layer .030 (Zendura A) material.