Doctor Portal Questions
---
Doctor Questions
I tried to login, but it wouldn't let me in and now my account is locked, what do I do?
For non-Eshop users, your account will be locked after three (3) consecutive failed login attempts. This lockout will only last for 20 minutes, you may try again after this period. If you still cannot login, please verify you're using the correct username and reset your password if necessary. If you need further assistance, you can call, email or chat with Customer Care.
---

How do I reset my password?
Your password can be reset from the Doctor Portal login page. Passwords are case sensitive and must be 8-16 characters long. Once you follow the instructions to reset your password, you will be prompted to log in using your new password and any reset link emailed to you will not work again.
If you have trouble with this process, you can call, email or chat with Customer Care for assistance.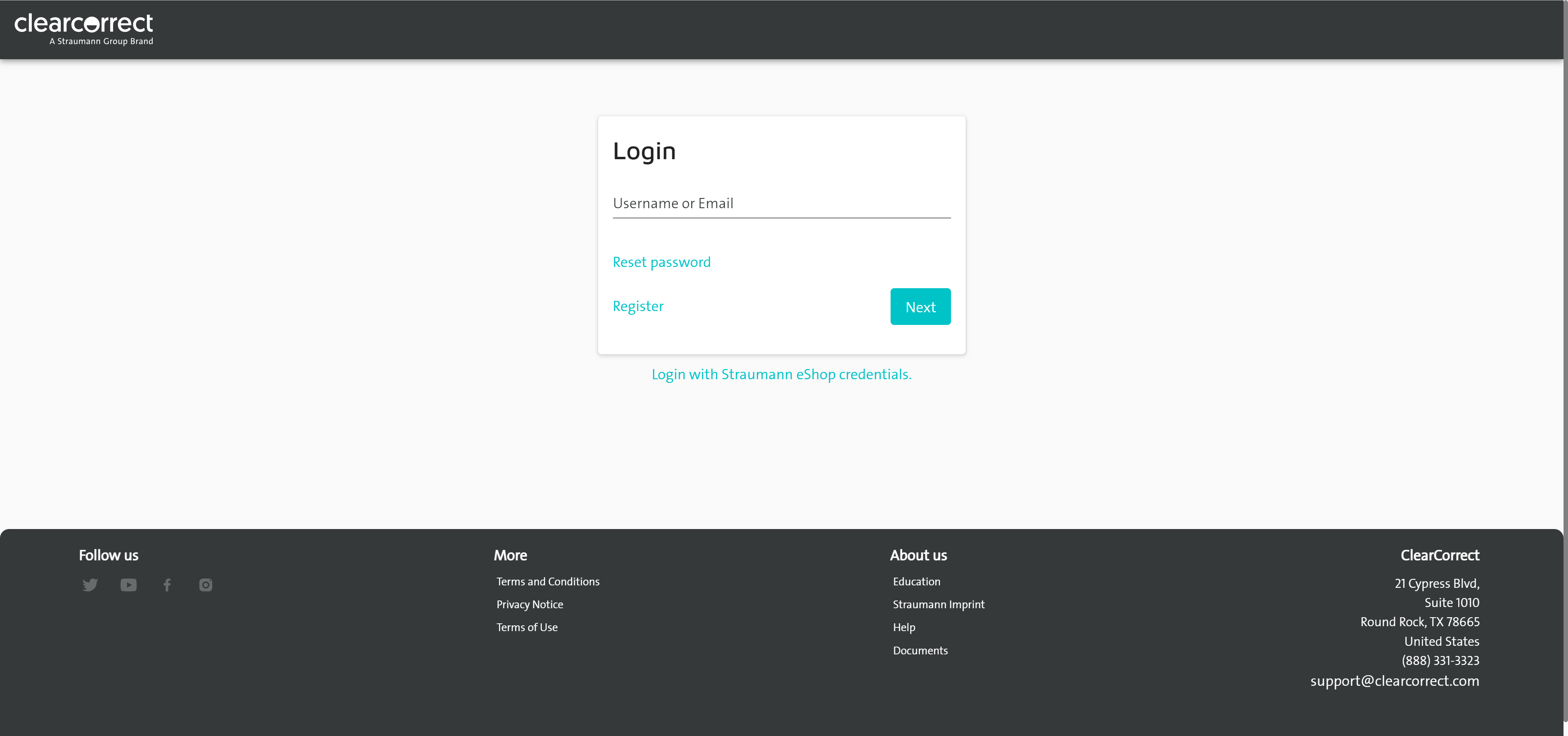 ---

I forgot my username, what do I do?
You can use your primary email address as your username. If you need assistance, you can call, email or chat with Customer Care for assistance. 
---

How do I change my email address on file?
In the right side of the header, there is a drop-down option by your name. Click on "My Account," and you can add or edit your email addresses by scrolling down or clicking on Email Notifications in the menu on the left side of the screen.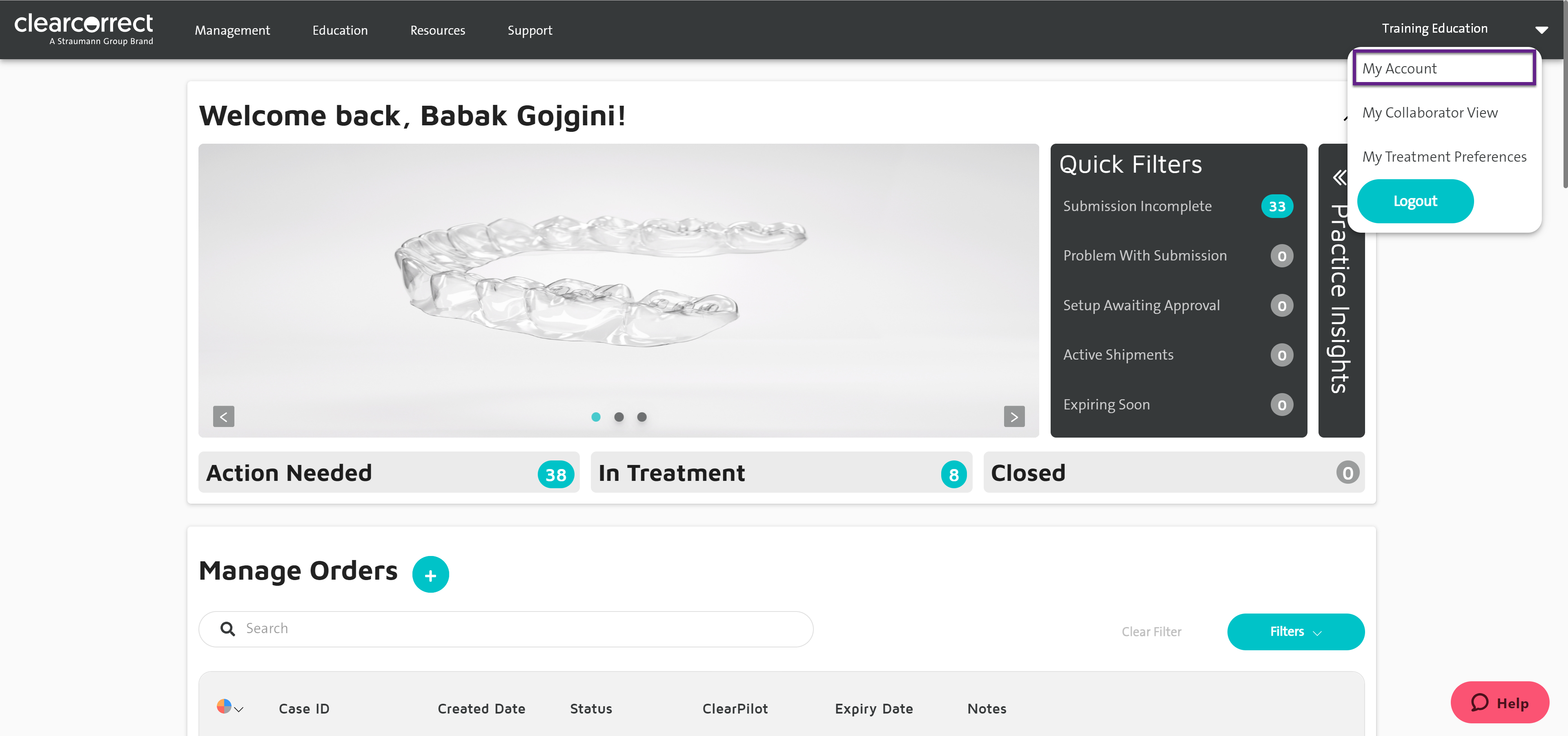 ---

Where can I change my shipping/billing/practice address?
Under "My Account," you can add or remove practices under the Practices option.
---
Where can I find education or marketing support resources?
You'll find links for the various ClearCorrect education and marketing support tools/resources in the homepage header. You can also get in touch with your local Clinical Advisor or find the link to Customer Care in the homepage header.
---

How do I change the address on a shipping label I already created?
Once an incoming shipping label is created you cannot change the address listed through the Doctor Portal unless a new label is created. To create a new label, go to the case page for the patient, you will be prompted to choose scans or impressions. Choose PVS impressions as your option and select your shipping method. Then click the button "Create a shipping label".
Once you have created a shipping label, select the "Shipping label" drop down and click on the label you want to print. A "Print" button will appear to download and print the shipping label.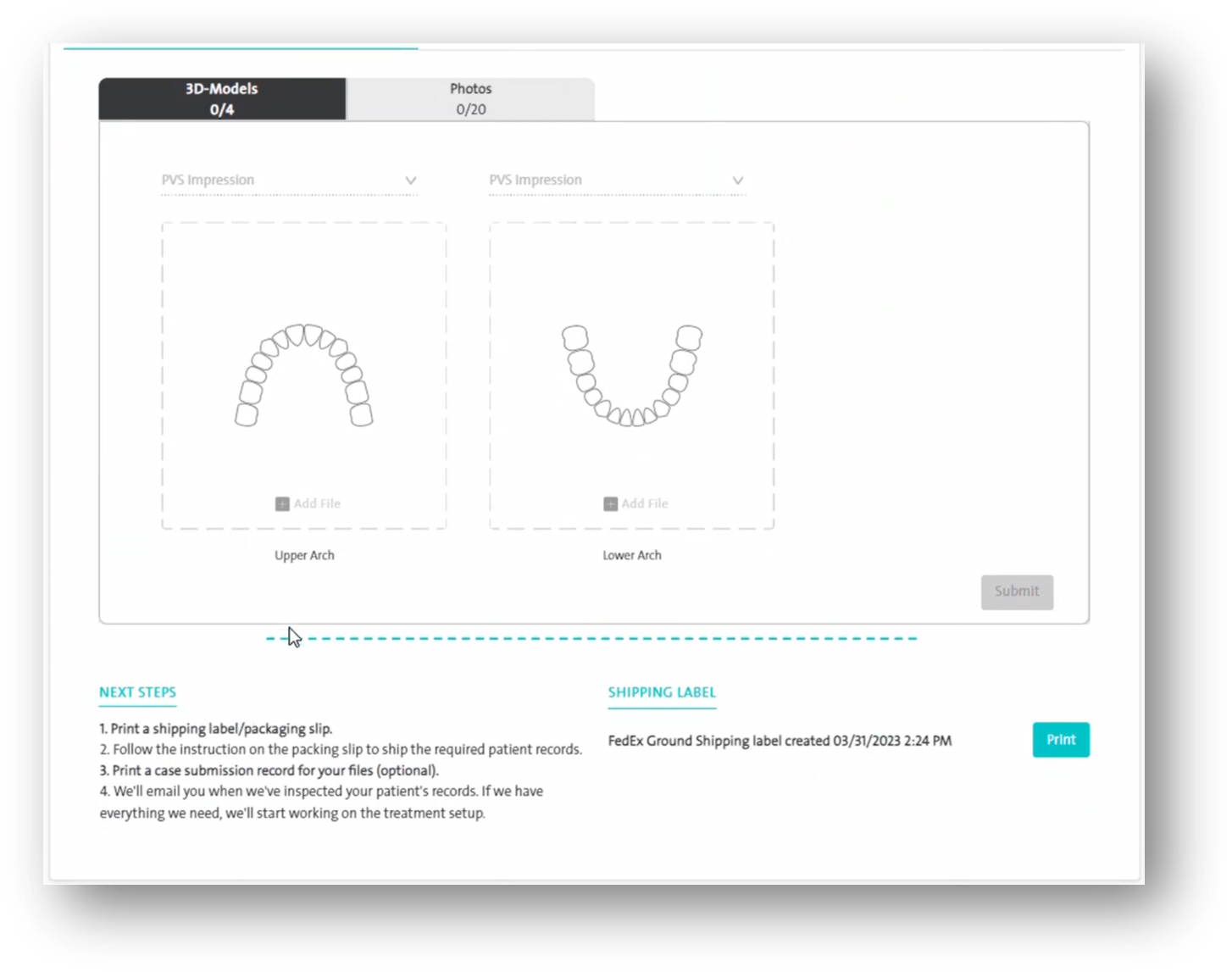 When you are adding an order/case, and you have multiple practices, be sure that the practice chosen is the correct one. If you have not submitted a case in a while, or you have recently moved, you can add or remove practices in the "My Account" section under Practices.
---

Where can I find invoices?
All invoices can be found on the Straumann eShop in the Billing & payment section of the Self Service menu. You can view, download and print invoices, payments received, account balance and more.
---

How do I find/apply my coupons/credits to my purchases?
If you have any available coupons or credits, they'll be listed in a dropdown menu when you approve a treatment setup or order retainers.
---
What should I do if I encounter an issue when using the Doctor Portal?
Any technical issues with the Doctor Portal should be reported to the Customer Care team.
Try using Google Chrome or Mozilla Firefox browsers.
---

Does the Doctor Portal work in all internet browsers?
For the best experience, we recommend utilizing Google Chrome or Mozilla Firefox.
The Doctor Portal is optimized to work in the most recent versions of the following browsers:
Chrome
Firefox
Edge
Safari
---

How do I change the language in the Doctor Portal?
To change the language from the default English, update the selection within the "My Account" page under the language preferences section. All available languages will be listed. 
---
Can I change or upgrade my case while in treatment (after approval)?
If you need a more comprehensive treatment plan, you may choose to upgrade active cases to the next available plan from either the case details page or the revision form for a fee. For example, upgrading from ONE to TWO increases the number of revisions or retainers included in your plan. It would also extend the expiry date to 24 months from date of 1st shipment. In effect, it will be as though you ordered a TWO treatment plan during the initial case start instead of a ONE.
---

How do I save my progress in the Doctor Portal?
Clicking the "Next" button will automatically save your progress when submitting a new case. This is important to remember on page 1 of the case submission process as the progress will not be saved if you click out of the page prior to clicking "Next".
When working on the revision form, please click "Save as Draft" to save your progress.
---
What is the 'expiry date' and what do the colors mean?
Expiry Date' refers to the date when the revisions or retainers included in your treatment plan expire (ex. ONE expiry date is 12 months from date of 1st phase shipment). When the expiry date is less than six (6) months out, this field will be bold-faced. When it is less than three (3) months out, this field will be colored red.
When the expiry date passes, you may still order additional revisions or retainers at flex pricing. Or you may choose to upgrade your treatment plan prior to expiry to extend this date.
---

Can I customize my treatment preferences in the Doctor Portal?
Yes. Custom treatment preferences can be set up and modified in the Doctor Portal, from the My Account section. You can also find 'My Treatment Preferences' in the primary account dropdown at the top right of the homepage.
---
Can I work with a 3rd party Treatment Planning Optimization service team in the Doctor Portal?
You have many options to work with Treatment Planning Optimization service groups when using ClearCorrect. You can purchase TPO for your cases from one of our TPO partners directly within the Doctor Portal. Simply click "Add TPO Order" on the last page of the submission form to view the integrated TPO options available in your market. You can also choose the "Add TPO" order from the case details page after initial submission if you decide you would like treatment planning assistance after reviewing the initial setup. Finally, you may purchase TPO for revisions when submitting the revision form. After purchasing TPO in the submission form, the case will automatically be shared via the Collaborator Suite and you can monitor its status using the Collaborator tools.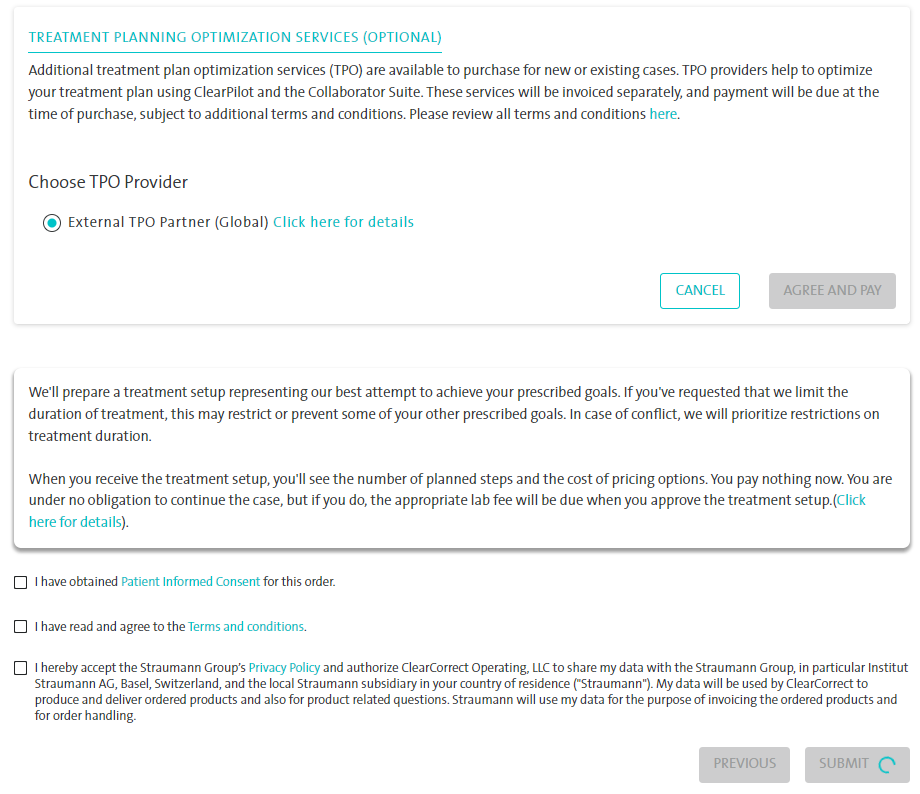 Additionally, you are welcome to work with any other TPO providers of your choice by sharing cases with them via the Collaborator Suite. While payment options may not be integrated, you can still use the communication and optimization tools available in the Collaborator Suite with other TPO providers who agree to the ClearCorrect terms and conditions.
It is important to remember that even expertly planned TPO treatments can be impacted by conditions outside of your control (such as patient compliance, etc), so you MUST monitor the patient's progress throughout the treatment to ensure they are tracking properly. If the patient is no longer tracking, you should initiate a revision as needed (you may also order TPO services on revisions). As the treating clinician, you are still responsible for the ultimate success of the treatment.
---
How should I use "Quick Filters'?
The 'Quick Filters' widget in your homepage dashboard provides a quick snapshot of how many cases you have in various states which may need your attention. You can click on any Quick Filter options to automatically collapse the dashboard and filter your case list to that category.
We suggest you check your Quick Filters widget each time you login.
---
What is in the 'Practice Insights' section?
The 'Practice Insights' widget in your homepage dashboard calculates case submission and approval metrics for a quick snapshot of how your practice is performing. You can track these metrics over various periods and compare performance to previous periods to identify areas of growth or opportunities for improvement.
You may expand or collapse this widget in your dashboard at any time.
---

What is the colored label column and how can I use it?
You can use the colored flag/label tool in the leftmost column of your case list to sort and filter cases into your own custom categories. Simply click the colored circle next to any case to assign it to a category or rename the category. Then click the dropdown at the top of the case list to filter based on custom categories.
480.857_en_03