For information regarding types of malocclusions, refer to the following:
Malocclusion is a misalignment or incorrect relation between the teeth of the two dental arches when they approach each other as the jaws close.
Some common types of malocclusions include:
Crowding
Crowding is caused by a discrepancy between the arch length and the size of teeth. Clinically, teeth overlap and are displaced in different directions. Depending on the amount of the discrepancy, crowding can be classified as mild (up to 3 mm.), moderate (from 3 to 5 mm) and severe (more than 5 mm.)​
Treatment approaches need to consider the soft tissues and patient's facial profile, the malocclusion class, dental positions and the amount of crowding itself.
For mild crowding, usually expansion and proclination are indicated. For moderate to severe crowding cases, other strategies and auxiliary techniques need to be used to achieve treatment goals.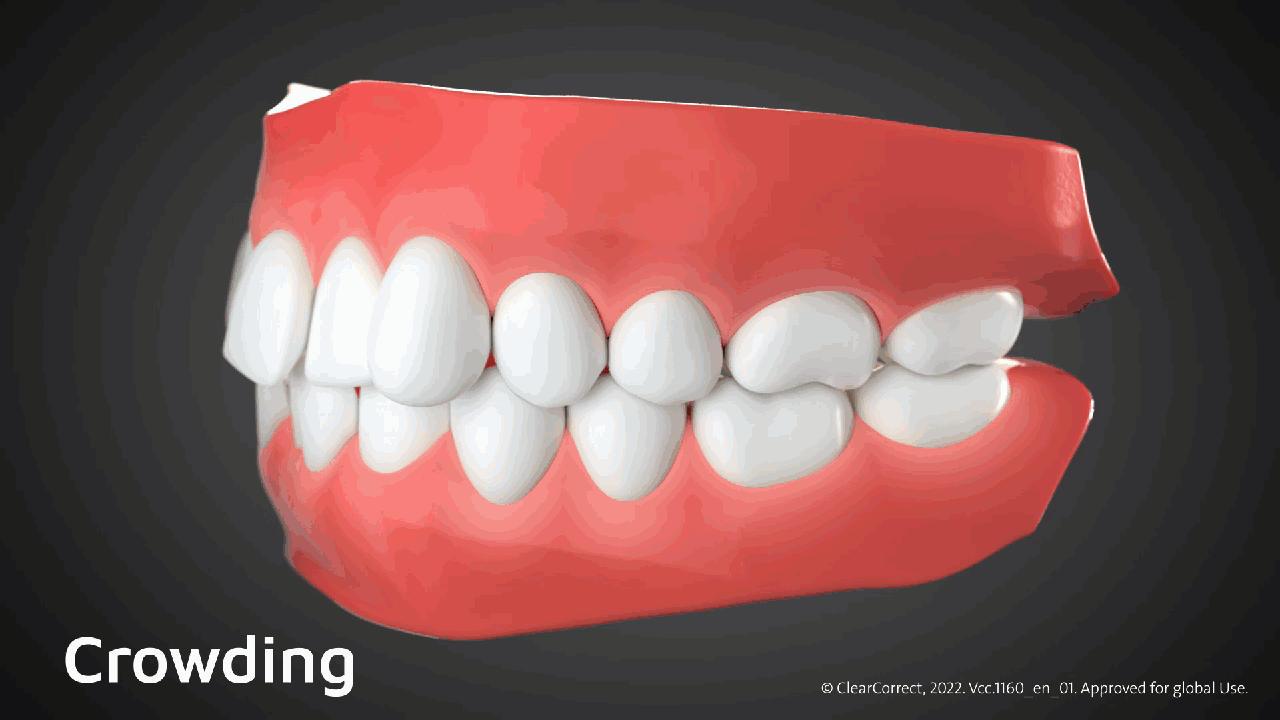 Spacing
Spacing is when there are interdental spaces and lack of interproximal contacts between the teeth.
Spacing is usually related to a tooth size discrepancy, missing teeth, parafunctional habits or a combination of these.​
Mild spacing can usually be corrected with the aligners by themselves. Moderate spacing can be corrected with retraction (if the teeth are proclined). Severe spacing usually requires the use of a combination of different techniques to correct the malocclusion, including the use of clear aligners and auxiliaries.​
Retention is particularly important after treating spacing cases, as well as monitoring and controlling any previous harmful habits the patient may have, to help prevent relapse.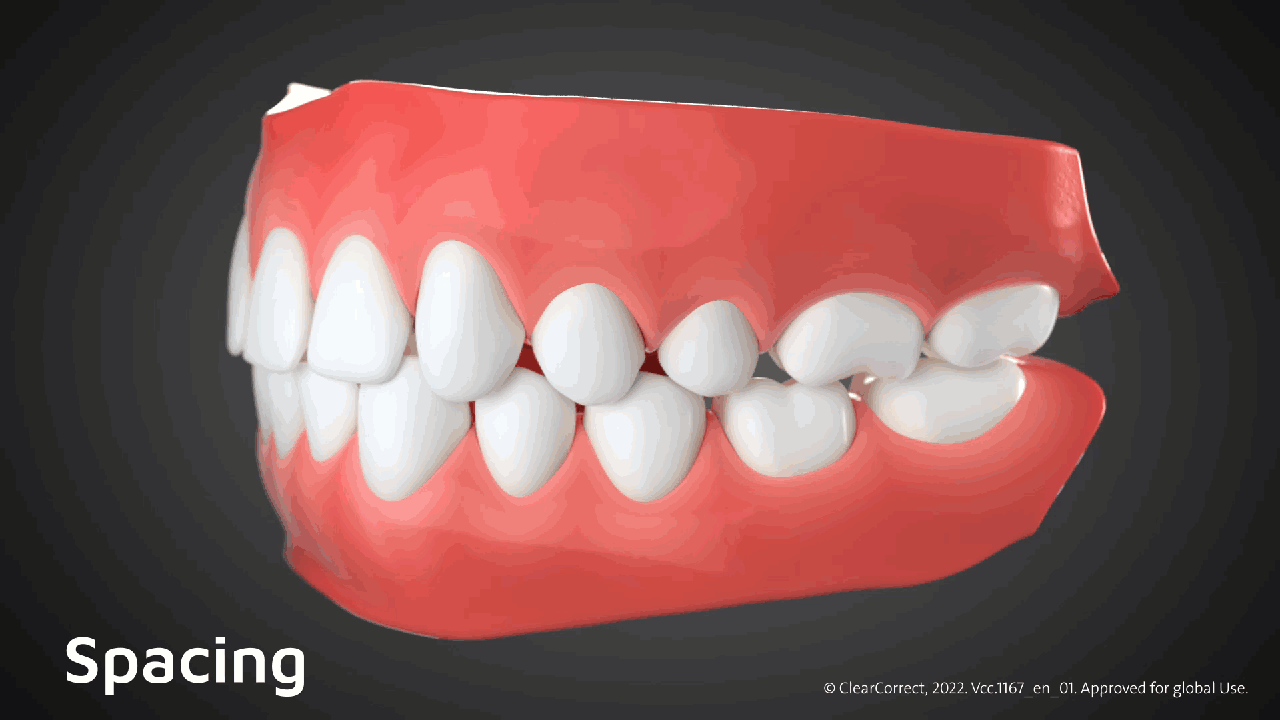 Deep bite
A deep bite is when there is an increased vertical overlapping of the of the upper incisors on the lower incisors usually measured perpendicular to the occlusal plane.
An increased deep overbite (deep bite) is a common vertical problem and has important functional implications for the patient.
Deep bites are caused by a combination of factors and if not too severe, can be corrected with aligners alone.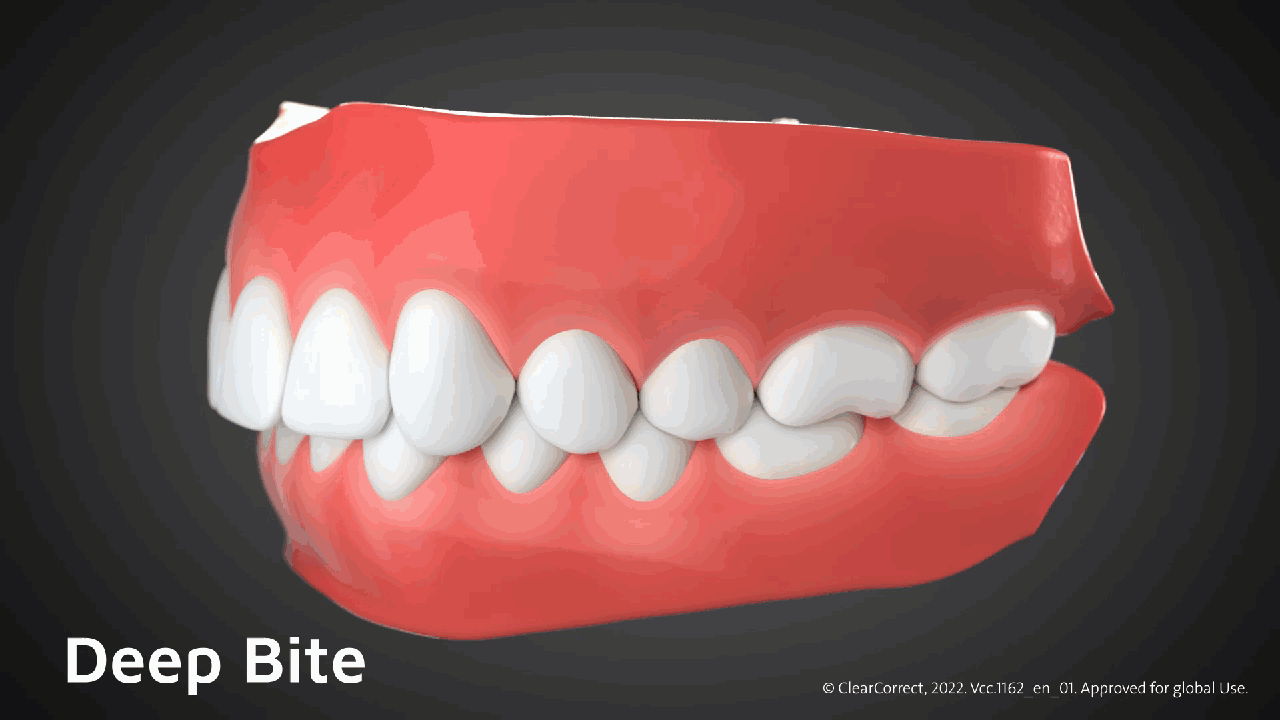 Open bite
An open bite is an abnormal dental condition in which the anterior or posterior teeth do not have contact with the opposing arch.
An anterior open bite is generally defined as a condition in which the anterior teeth are not in contact when the patient bites in centric occlusion.
A posterior open bite is less common. In this case the posterior teeth are not in contact in centric occlusion. It is related to habits, ankylosed teeth and other factors.
Open bites can be either a dental or skeletal condition. Attention needs to be paid to the patient's soft tissue profile, maxillary arch form, and mandibular angle (usually seen in a lateral cephalometric radiograph).​
You can predictably correct open bites with clear aligners by retroclination of the incisors, if initially proclined, benefiting from relative extrusion to enhance correction of the vertical problem. ​If an anterior open bite is present before, during, or after treatment with clear aligners, a comprehensive evaluation must be completed in order to properly determine the reason for the open bite. Determine whether it is due to a dental, skeletal, muscular, or a different ethiology; only then can the appropriate treatment be selected. It is very important to monitor cases very carefully to observe if a posterior open bite develops during an orthodontic correction with clear aligners. The development of a posterior open bite during aligner treatment is a complication usually related to premature anterior contacts as treatment progresses. These can be avoided when reviewing the treatment set-up. If a posterior bite develops, it should be addressed without delay. A revision might be required.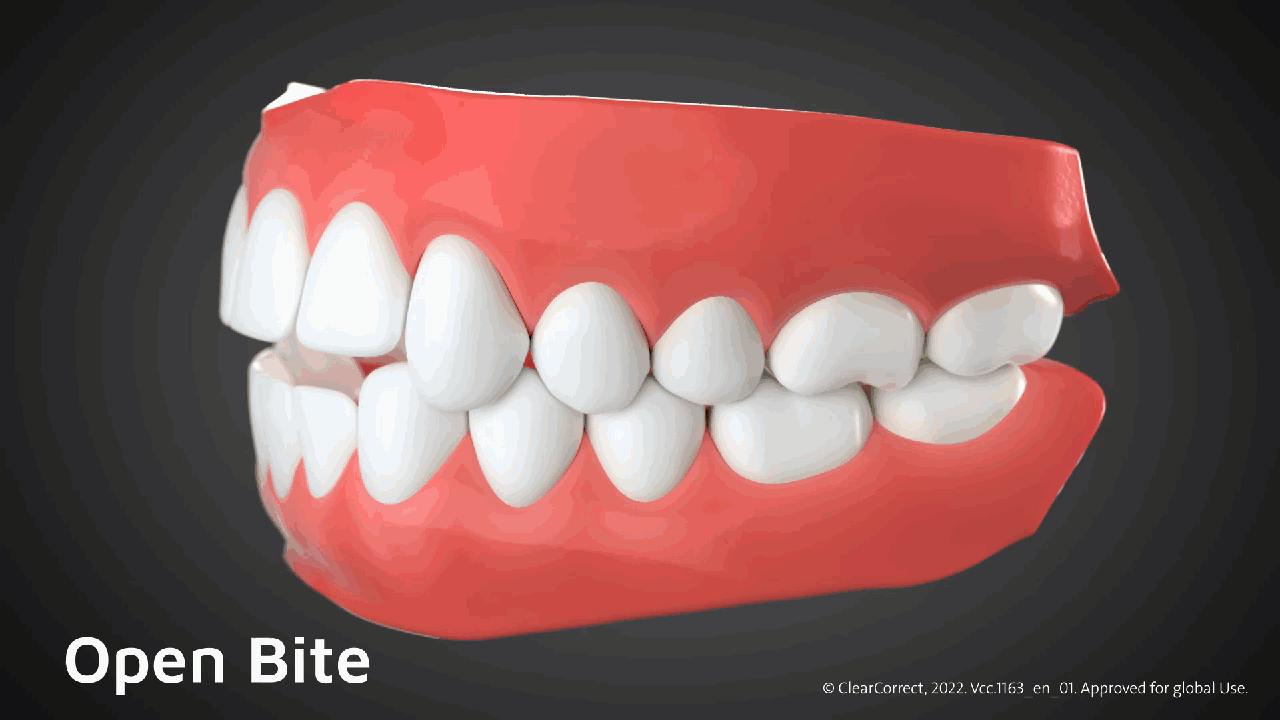 Crossbite
A crossbite is an inverted relationship between the teeth: the upper teeth, anteriors or posteriors, are palatally displaced with respect to the lower teeth.
It is important to find out the cause of the crossbite to be able to treat it correctly. Identifying if the crossbite is a dental crossbite or skeletal crossbite will condition the treatment plan. ​
A dental crossbite is related to tooth displacement and skeletal crossbite is usually related to a narrow maxillary arch. A thorough clinical exam as well as X-rays are needed to make the differential diagnosis.
A Skeletal Crossbite is indicated by a narrow maxillary arch and/or a wide mandibular arch. The long axis of the teeth appear to be normal in this instance, but the arches are not coordinated due to the transversal discrepancy.
Dental crossbites can usually be corrected with aligners. Skeletal crossbites usually need a prior phase of treatment with other appliances (fixed expanders or surgically assisted expansion).